The Outback Guide Blog - Explore the Australian Outback
The "Outback Guide Blog" alerts you about new pages on the Outback guide, as well as older ones that I am going to rebuild, improve and update every now and then.

Since Rita's Outback Guide will be growing all the time, you are invited to subscribe to my RSS feed.
This is a good way to keep you up-to-date with changes and new pages on the Outback Guide. You don't even need to provide your email address.

What does RSS feed mean?
By right-clicking on the orange button you can copy and paste the URL in your RSS reader.

Like us on Facebook or follow us on Twitter. If you like my website, share it with your friends.

Now have fun exploring the the tales and tips from the Australian Outback.
Starting in 2019, I am going through all pages on the Outback Guide, add new and better photos, and update articles when necessary. Enjoy, and come back frequently! Thank you.
Looking for a camper for the big trip?
Discovery Campervans offers the leading brands: Brits, Maui, Kea and many more.
Compare and get rates from one website.

Partner Link - Read my affiliate policy


Outback Guide Blog

May 21, 2019
Lasseter Highway - The route to Uluru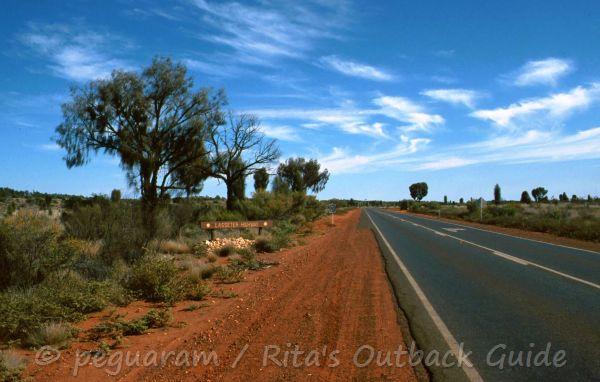 The Lasseter Highway, named after gold prospector Lewis Harold Bell Lasseter, runs 244km to the west from Erldunda to Yulara and Uluru / Kata Tjuta National Park.
Advertisement