Marree's History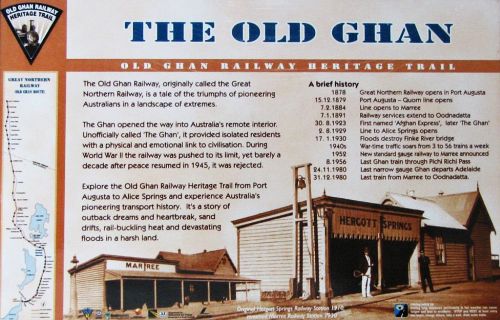 A camp near the Hergott Springs was built to support workers on the Overland Telegraph Line in the 1870s. The town Marree was established in 1883, but it was called Hergott Springs until 1916. When the Ghan Railway reached Hergott Springs in 1884, the settlement developed rapidly to a population of 600, and into a major centre in the area.
Fettler cottages were built for railway workers. They are the oldest surviving railway buildings in town.
Cattle was driven down from Queensland and the Northern Territory and then transported to Adelaide by train.
Camel trains carried supplies from the railhead to stations and settlements further north. A large community of Afghan cameleers and their families settled in their own "Ghantown". These Afghan cameleers played an important role in opening up the harsh inland of Australia. Some of their descendants still live in Marree.
When the Ghan line was replaced 200 km to the west in 1980, the town's population went down to around 100. Thankfully, Marree is still on the map today, and a wonderful place to stop for adventurous travellers to the Outback.