An overview about Australian seasons
This sequence of seasons is valid for all countries in the southern hemisphere.
Summer is from December to February
Autumn is from March to May
Winter is from June to August, and finally,
Spring is from September to November.
With Australia's vast dimensions, you can imagine that it is hard to pick a season that has ideal weather in each and every corner of the country. It often depends on the activities you're planning for your holiday trip.
One fact is for certain, Australia's weather is much dryer than in any other country of the world. Rainfall is rather unpredictable in most parts of the continent, except for the northern regions which are under influence of the tropical monsoons.
The central desert regions
The central and southern parts of Western Australia, the southern Northern Territory, the central and northern parts of South Australia, as well as the far west of Queensland New South Wales belong to Australia's dry and desert regions.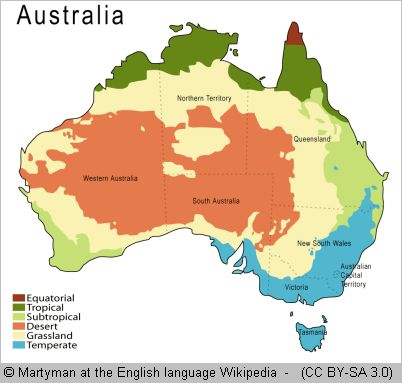 This map certainly gives you a better overview of the climate zones in Australia than my descriptions.

Anyway, the central parts of Australia have hot summers with temperatures of 40°C and more during the day, while the average day time temps in winter are around 20°C. At night temperatures vary from 20°C in summer to freezing zero in winter. Clear blue skies and low humidity make the hot days tolerable.

The arid and semi-arid areas of inland Australia receive between 100 and 300 mm rain per year, but this is rather unpredictable. The northern parts get perhaps a little more rain, depending how far south the monsoon clouds make their way. All in all, you'll never know when the rain comes in these driest parts of Australia.
Advertisement