Australian mammals
Kangaroos and Koalas are marsupials everyone outside Australia knows. They just represent Australia's famous wildlife. With a little luck and patience, you'll see them in their natural habitat when you travel around Australia.
Okay, it's not always their natural habitat anymore, but you can really meet them outside of wildlife parks.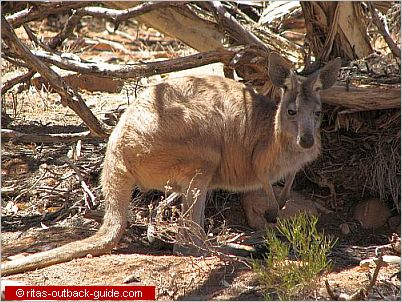 Marsupials don't have a placenta. The young are born in a very immature state, make their way through their mothers' fur to the pouch where say stay until fully developed. Wallabies, wombats and possums are other well-known marsupials in Australia.
The third group of mammals are the monotremes, warm-blooded animals that lay eggs. The echidna and platypus are the only survivor of monotremes and are indigenous to Australia and New Guinea.

When the first Europeans sent a pelt and a sketch of a platypus back home to Great Britain, British scientists thought it was a hoax. Platypus and Echidna are certainly the most unique Australian animals.
Australian Birds
Among Australia's 800 species of birds about 350 are endemic. The songbirds include species like wrens, robins, magpies and many more. And then there are all the colourful parrots and cockatoos. The budgerigar is certainly the best known Australian parrot in the world.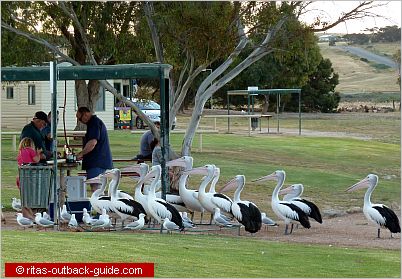 These pelicans expect to get their daily dinner at the fish-cleaning station, Streaky Bay Caravan Park
Waterbirds are represented by about 200 species like the Australian pelican, jabiru, ducks and herons. Take your time, sit down and watch Australia's amazing birdlife.
Listen to the foreign sounds, enjoy the colourful species. There's nothing better than waking up by the concert of laughing kookaburras in the early morning. Though, this won't happen in the Outback, unfortunately, as the habitats of the kookaburra are the open forests along the east coast and in south west of Australia.