Oaks Plaza Pier Hotel
16 Holdfast Promenade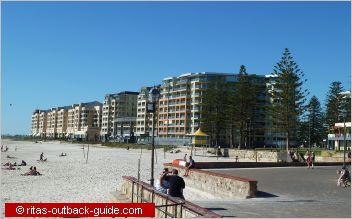 Right on the beachfront, the 5 star Oaks Plaza Pier Hotel offers magnificent ocean views. Spoil yourself in luxurious one and two bedroom apartments, all with balconies.
Most apartments have a separate bedroom, lounge, fully equipped kitchen, laundry areas. The private balconies provide spectacular views either over the park, the Marina or the Ocean.
Relax in the pool if you feel the ocean is too cold for you.
Local and regional food is served at
the Rocks Restaurant
. The Oaks Plaza is just a few minutes walk from Glenelg's shopping area.
Book the Oaks Plaza Pier Apartment Hotel
Glenelg Pacific Apartments
10 Durham Street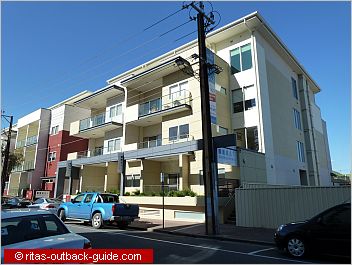 This modern apartment house is just one block away from Moseley Square and the beach.
The Glenelg Pacific offers 1 and 2 bedroom apartments for short and longer stays.
All apartments have full kitchen and laundry facilities.
Minimum stay is 3 nights (5 nights during high season).
Check out the Glenelg Pacific Apartments