Lasseter Highway
Erldunda to Yulara - 244km
---
Lasseter Highway, named after gold prospector Lewis Harold Bell Lasseter, runs 244km to the west from Erldunda on the Stuart Hwy to Yulara and Uluru / Kata Tjuta National Park. It is an easy drive on a fully sealed road.
While the landscape in the southern parts of the Stuart Hwy is a bit boring, travellers coming from the south will notice a change in scenery and vegetation once they turn west at Erldunda. There are low sand ridges, spinifex bushes, desert oaks, and the earth is truly red.



We were really lucky to come here in spring after good winter rains. Bushes and trees had fresh green sprouts, and there were many wildflowers. An absolutely beautiful sight.
Mt. Ebenezer Roadhouse - 56 km from Erldunda
The roadhouse is run by the Imanpa Community. Apart from offering camping facilities, motel-style units and the usual roadhouse services, Mt. Ebenezer has an art gallery. They sell artworks produced by artists of the community.
Don't miss a visit if you are interested in genuine Aboriginal art.

Update: I heard that the roadhouse was closed in 2012. I am checking if or when it opens again and give further information.
Update July 2014 - Mt. Ebenezer Roadhouse is open
I received a message from the manager at Mt. Ebenezer Roadhouse, he's got a long term lease so the facility will remain open for the next ten years, at least.
Thank you Kenny Hewson for the good news.

As of May 2019, I found resources on the internet that the roadhouse is closed again. Seems to be a bit of an up and down. Anyway, I sent them an email to investigate about the current status of Mt. Ebenezer Roadhouse. I'll let you know when I hear back.

Mount Connor - No, it is not Uluru
Curtin Springs - 160 km from Erldunda
Curtin Springs is a working cattle station that offers budget accommodation, a caravan and camping ground, meals and cold drinks.

It is only 84 km from Yulara, so if you think Yulara is too expensive for you, Curtain Springs is a nice alternative to stay and explore Uluru and Kata Tjuta.

Find best rates for Curtin Springs Station at HotelsCombined
Curtain Springs is close to Mount Conner, an ancient table top mountain that sits on a flat plain, which is sometimes mistaken with Uluru. You can book a tour to Mount Conner at Curtain Springs.
Yulara - 244 km from Erldunda
Yulara is the tourist resort outside Uluru-Kata Tjuta National Park. From Yulara it is about 18 km to Uluru, and about 50 km to Kata Tjuta.

Yulara village has hotels, mostly in the upper price class, and a large caravan and camp ground. A shopping centre, roadhouse, and tourist information & booking centre offer everything tourists need in this isolated spot.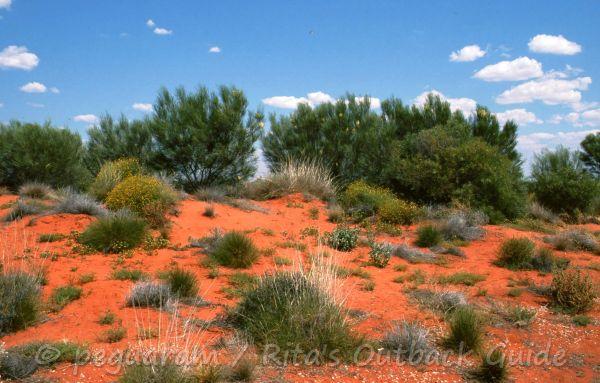 Beautiful Outback vegetation along Lasseter Highway

The campground has cabins and permanent tents, plenty of powered and unpowered caravan and camp sites, a large camp kitchen, laundry, and shower blocks.
The Outback Pioneer Lodge is another place for budget accommodation.
Click here to check accommodation types at Yulara.

Uluru-Kata Tjuta National Park is a beautiful place. You can easily stay a few days, explore the park on your own, or join one of the excellent Uluru tours.

Transfer to Alice Springs
If you flew to Yulara and want to go back to Alice Springs by coach, there are several tours you can choose from.

3-Day tour from Uluru to Alice Springs
This tour combines sightseeing at Uluru, accommodation and transfer from the airport at Yulara. On the way to Alice Springs you're going to see King Canyon and stay there one night. 

One-way shuttle service
If you are short of time, there is also a shuttle bus available that takes you to Alice within 6 hours.


Explore the Outback along the Stuart Highway
---
The articles below help you to plan your journey

Painted Desert
Arckaringa Hills