4 WD Bushcamper
If you want to travel the famous tracks in the Australian Outback you need to hire a 4WD camper van. Although there are a few different 4 WD models available, the most common is the camper based on the Toyota Landcruiser troop carrier.
The Landcruiser is considered the Australian working-horse, widely used by residents in the Outback. The big advantage is that you will get spare parts and tyres nearly everywhere, even in the remote places.

The Toyota bushcamper is usually fitted with
two batteries
two 90 l fuel tanks
a fresh water tank for the kitchen sink
manual transmission and High & low ratio 4WD
The
kitchen
is fully equipped with a fridge and portable gas cooker, sink, pots and cutlery. With this car you are fairly independent, ready to go off into the wilderness :).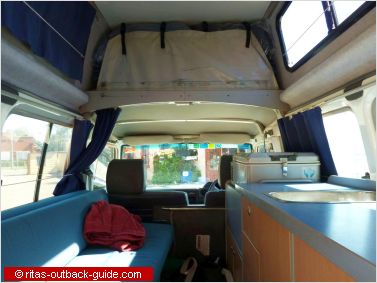 There is enough room for 2 large travel bags and other stuff. Be aware that you have to move it all to the front seat at night.
Although the bushcamper is configured for
two adults
and
one child
age 4 - 13 years, room for a child on the front seat is rather narrow.
Children from 4 to 7 years of age must use a booster seat in Australia, and I can't imagine to fit this in without the two adults becoming a bit squeezed. By Australian law, children under 4 years must sit in a baby seat, and there are no anchor points for the required seat, so you can't use this car with a toddler.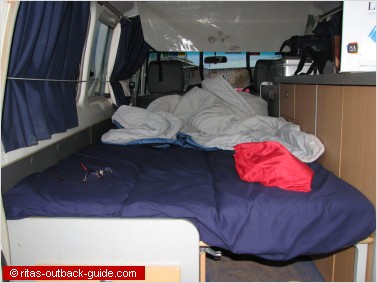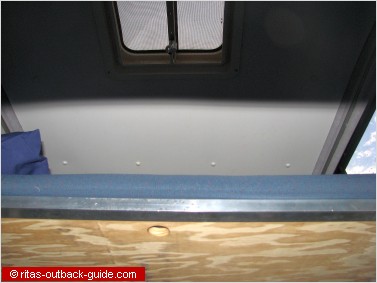 Now it is a bit spartan living in the bushcamper for a while, but it is also fun.
The upper bed is like a shoe box, there is no room to sit upright, and you have to climb over the cupboards to get up to your bed. But with the windows around, you even have one in the roof, it is beautiful to see the stars at night.
The bushcamper has plenty of store room on the left side, under the bench, which can be used for extra water boxes, spare parts and things you don't need daily.
Items stored in the cupboards and under the bench get more or less covered in dust while you are driving on unsealed roads. But hey, this is the Outback!
When you pick up the camper, the bowls containing plates, cups and the cutlery are already wrapped with clingfilm. Take a clingfilm roll with you, and cover the dishes after you used them!
When you are driving your luggage is stored in the small aisle between the bench and the cupboards, while at night you have to move the baggage to the front seats. So don't bring a large suitcase, flexible bags are much better.
Even if you don't want to sleep in the car, the bushcamper is the best option you will find to go off-road.
There is another 4WD Toyota available for up to five people. It carries a fridge, stove and other kitchen stuff in the back of the car, and comes with a tent. However, for only two people it is more expensive.
Please note
that even with this "Outback working horse" you are restricted, and not allowed to use a few of the more challenging 4 WD tracks. This depends on the rental company, so check the conditions before you make a booking.