Outback Driving Tips & Facts
Stay safe on your travel adventure in Australia
---
Outback driving is not riskier than driving on any crowded highway at home. Likewise, driving on unsealed tracks in the Australian Outback needs the driver's full attention.
Forget the traffic jams. Enjoy the freedom to drive on empty roads in the beautiful Australian Outback!


Campervan at the Silver City Hwy, Outback NSW

Conditions on dirt roads vary, depending on the weather, usage of the road, and how long ago the grader went through. Usually, the main Outback roads, although unsealed, are in fairly good condition.
Table of Content (TOC)

Sheep crossing the Silver City Highway - always expect animals on the road
At first, some basic rules for driving in Australia
To start with, driving in Australia is not hard, even if they drive on the "wrong" side of the road. That's when you come from central Europe, or North America. Okay, there are still a few more countries in the world who drive on the left, so the wrong or right really depends on where you come from.


A valid driver's license is required, of course. International visitors should have an international driving license, especially, if your license is not issued in the English language. But also bring your national drivers license.
Speed limits apply in all states of Australia, but they vary from state to state, and even change within the state from time to time. If you're going to hire a car, you'll get the latest information. You can also check with the Australian motoring clubs.
Always fasten your seat-belt, also when you sit in the back of the car.
Drinking and driving is best to be avoided. A blood alcohol concentration limit of 0,05% is valid in all states. And they test you!! Even in a small bush town on a Sunday morning.
Watch out for animals on the road. Apart from the native wildlife lingering on the road, there is also the risk that a mob of cattle, or a flock of sheep is driven over the road.
I mentioned it before, Australians drive on the left side of the road, but this is not a problem. After two days it is like you have always done that.
Traffic in the cities will help you to do the right thing. On a lonely country road it is different, be aware to stay on the left side of the road then.


Emergency calls
If you have an accident with people being seriously injured call the police and an ambulance. The emergency call is 000 from fixed phones, and 112 from mobile phones.  106 can only be used with a teletype writer, this is the number for anyone who have a hearing or speech impairment.
You can also use the triple zero emergency app to call 000. This gives the emergency services your position using the GPS of your smart phone.

When you travel into very remote areas, consider taking a sat-phone or HF radio with you, just in case if you have trouble with your car, or health problems.
Even on main highways phone connection is not always given outside Outback towns. However, on main roads you won't have to wait long until another car arrives.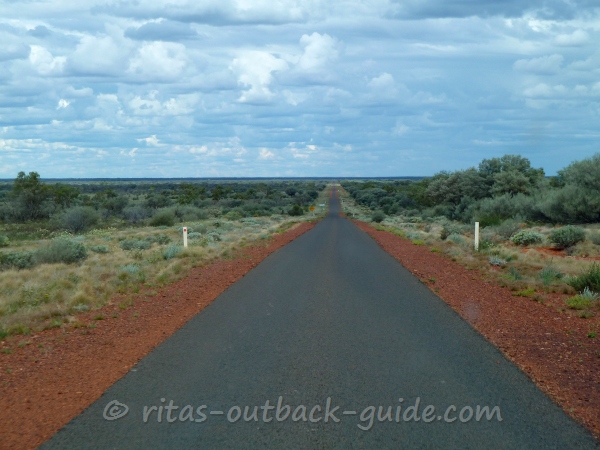 Narrow road in Queensland - get off the road when a truck approaches
Driving in the Outback
Sealed highways and roads
Many Outback roads are bitumen roads, marked as "sealed" road on a map. Actually, there are quite a few major highways that criss-cross the country, and can be used by any family car.
The Stuart Highway from Port Augusta to Darwin is the main connection from south to north in the centre of Australia. Yes. you reach Uluru and Alice Springs using that highway.
Eyre Highway takes you from Port Augusta to Perth across the famous Nullabor plain.
Another major route is the Barrier Highway which connects the central west in NSW with the vineyards of South Australia, and Adelaide.

Minor roads are often very narrow (one-lane road). When you see an oncoming car, slow down and move to the left so that your left driving wheels are on the gravel.
However, if the oncoming car is a truck, you better slow down and leave the road completely. Don't force the truck to leave the bitumen. It would only throw stones and dust on you anyway.

Don't forget, what you think is a truck could as well be a road train. These "monster" vehicles can be up to 50m long. Bear this always in mind when you try to overtake a truck/road train.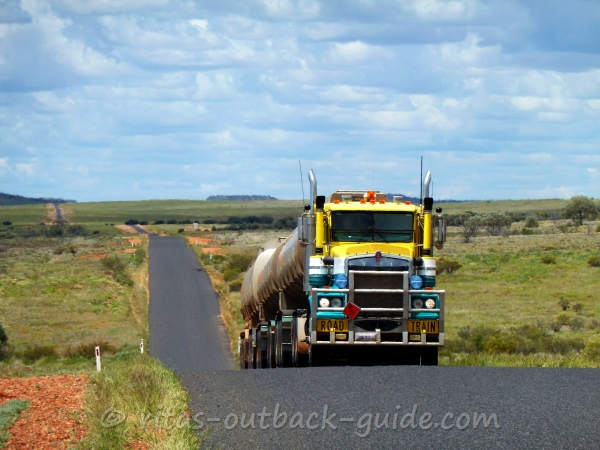 Road train on a narrow road in western Queensland

Another danger of Outback driving is fatigue, especially when you drive long distances on sealed roads. From my experience, falling asleep won't happen as easily on a dirt road, because the rough surface calls for your attention. Nevertheless, plan frequent stops; there is always something worth to take a photo of.
Stop, revive and survive!


Unsealed roads and tracks - more tips for Outback driving
Now in Australia's inland you can expect a wide variety of road surfaces. From good gravel roads to extremely rough, rocky or sand tracks, everything can happen. When you go into remote areas and onto the famous tracks, investigate what conditions are like before you leave home. Below is a list where you get that information from.

You've heard about corrugated roads? It seems Australia is famous for them.
Pictured below is one of the worse roads in a national park in New South Wales. Don't worry, it is not always that bad.
Find the speed that makes the ride on a bumpy track comfortable for you. On roads like the Oodnadatta & Birdsville Tracks this could be a speed of 60 to 80 km/h (40 - 50 mph) if the conditions are good.


Corrugated road - Kinchega National Park, NSW
When driving on unsealed Outback Roads...
Always be aware of hidden dangers like potholes and soft edges. If you are speeding you can turn your car upside down


Drive with your headlight on. Other cars see you better in the dust cloud that surrounds your car


Avoid driving on wet roads. The mud covers your tyres and you easily lose traction. If a dirt road is closed due to rain, wait until it dries out. The fines for driving on closed roads will ruin your budget.
Never drive across a flooded river however shallow it seems. The current could sweep your car away. (Thanks Jill from "Art in Tropical Australia" for the tip).


When a road train comes across your way on a dirt road, it is a good idea to drive as far to the left as possible. Slow down. Better still, stop and wait until the truck has passed. You won't see anything driving in the dust of a road train.
If you have CB radio (Channel 40) and see an oncoming truck, you can call and let the driver know that you are around. Remember, it will take a long time for a heavy vehicle to stop, so just be careful.


Grid on the Oodnadatta Track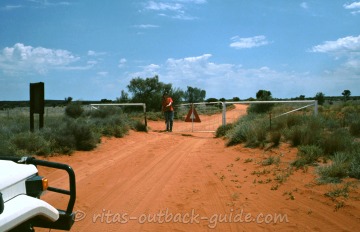 Leave the gate as you found it!

Grids and gates
- they help station owners to keep the animals in the paddocks they should stay in. On main roads there are grids, animals won't walk over them. There's hardly ever a problem with grids on bitumen roads. However, be careful on unsealed roads, slow down. Because of washouts it can be a bumpy ride over the grid.


Minor roads and station tracks just have a gate. You, or the co-driver, have to get off the car and open the gate, if it's closed. Don't forget to close it after you have passed. The golden rule is: Always leave a gate as you find it!
When you have driven on rough tracks all days, the gate stop is useful to have a look at the car to check if everything is still in place.

That reminds me on another fact you should realise while driving throughout the Australian Outback. Almost always you traverse private property. Please stay on designated roads and tracks.


Crossing a dry creek bed in the Gawler Ranges
Where to check road conditions
Useful Tips for your Australian Outback adventure

---