Outback driving is not riskier than driving on any crowded highway at home. Likewise, driving on unsealed tracks in the Australian Outback needs the driver's full attention.
Forget the traffic jams. Enjoy the freedom to drive on empty roads in the beautiful Australian Outback!

Conditions on dirt roads vary, depending on the weather, usage of the road, and how long ago the grader went through. Usually, the main Outback roads, although unsealed, are in fairly good condition.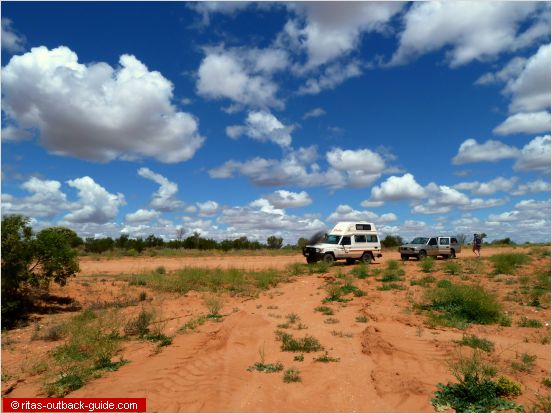 At first, some basic rules for driving in Australia
To start with, driving in Australia is not hard, even if they drive on the "wrong" side of the road :). Okay, there are still a few more countries in the world who drive on the left, so the wrong or right depends on where you come from.

A valid driver's license is required, of course. International visitors should have an international driving license, especially, if your license is not issued in the English language. But also bring your national drivers license.

Speed limits apply in all states of Australia, but they vary from state to state, and even change within the state from time to time. If you're going to hire a car, you'll get the latest information. You can also check with the Australian motoring clubs.
Always fasten your seat-belt, also when you sit in the back of the car.

Drinking and driving is best to be avoided. A blood alcohol concentration limit of 0,05% is valid in all states. And they test you!! Even in a small bush town on a Sunday morning.

If you have an accident with people being injured call the police. The emergency call is 000 from fixed phones, and 112 from mobile phones.
I mentioned it before, Australians drive on the left side of the road, but this is not a problem. After two days it is like you have always done that. And traffic in the cities is much the same as in any other country.
Advertisement