Travelling from Windorah QLD to Birdsville
by Tony B
(Melbourne, Victoria Australia)
How good/bad are the Diamantina Development and the Birdsville Development Roads, (Windorah to Birdsville)? There are plenty of write-ups about the Birdsville Track, and there seems to be a consensus that you could easily travel it in an ordinary sedan these days.

I'm fairly experienced in outback travel, however my vehicle will be a Subaru Forester, which isn't as big and hairy-chested as your land cruisers, Patrols etc. Any issues with ground clearance?

My belief is that even the best 4WD is only as good as the nut behind the wheel.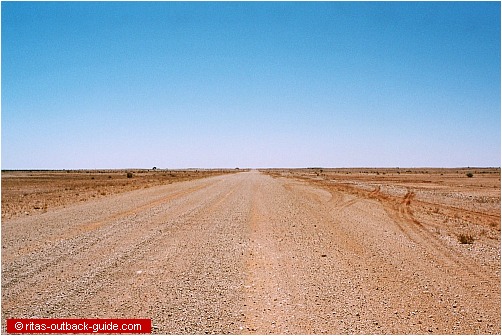 Rita's Reply
Hi Tony,
"
My belief is that even the best 4WD is only as good as the nut behind the wheel.
" You are definitely right with this conclusion!
The
Birdsville Track
was very stony when I travelled it years ago. It was there that we had the only flat tyre of all Outback trips. Obviously, we hadn't lowered the tyre pressure as much as we should.
I thought the road north of Birdsville was even rougher than the BT itself, with lots of sandy patches.
The Diamantina Developmental Road is sealed from
Windorah
to the junction with the Birdsville Developmental Road. The Developmental Roads are maintained frequently. However, after rain they can be quite rough, with washouts and deep wheel ruts.
As an experienced Outback traveller you certainly know that any statement about conditions on a certain road is only true today, and can be rather different tomorrow.
Please understand, I try to avoid statements like "You can do this track/road with that kind of car", because it depends on the conditions on the day you go out there. As of today, the Birdsville Developmental Road is recommended for high-clearance vehicles only. But this might be different in a month.
With this Outback Guide I try to convince even first time travellers that they can explore the Outback (as long as they don't start with the Simpson Desert on the first trip), and offer help to prepare their journey.
Even if I repeat myself, a successful trip depends on how well the driver is prepared, knows his car, the weather, and current road conditions. It is good to ask the locals, even better oncoming drivers, before one gets out on a lonely stretch of road.
For the latest road conditions call 1300 130 595 (recorded), or check the
road conditions
on the Diamantina Shire Council website.
For South Australia the telephone number is 1300 361 033, and the website is
Outback Roads South Australia
Safe travelling.
Rita