Koala Facts
Australian koalas are NOT bears, although many people are talking about the "koala bear". Koalas are marsupials. It is said that the name koala comes from an aboriginal language meaning "no drink".

The koala below didn't like his photo taken, so he started climbing further up the tree.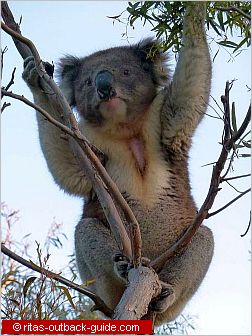 Koalas live in the woodlands in coastal regions of eastern and southern Australia. So they are not animals to be found in Outback Australia. Koalas feed on the leaves of particular Eucalyptus trees. Due to hunting in the early 20th century and destruction of their habitat they were nearly extinct.
Today koalas are protected, and it is not allowed to keep them as pets. That applies to most native Australian animals, by the way.
The average koala is about 70 - 80 cm tall, and weighs about 6 to 12 kg. Southern koalas are somewhat bigger and heavier than those in the north. And of course there is a difference between male and female animals. Koalas have a good sense of smell and highly developed hearing.
Koalas are well adapted to their life in trees. Their paws have long sharp claws for gripping and climbing. Koalas spend about 18 to 20 hours a day dozing in a tree. When they are awake they are mostly eating. Their digestive system is adapted to cope with the toxins in the gum leaves. Koalas rarely drink, but they can if they need.
The best places to spot a koala? That is hard to say. Most travel guides refer to the Grampians NP in Victoria, the Warrumbungle NP in New South Wales, and the Brisbane area. I nearly got a stiff neck while driving and walking in the Grampians, and I didn't see a single koala.
From my point of view, the Adelaide Hills are a great place to see koalas. Sometimes they even walk along the streets.
Wombat Facts
The wombat is another unique example of native Australian animals. The short-legged, muscular marsupial is a powerful digger. With an average length of one metre and weighing between 20 and 35 kg (44 to 77 pounds), the wombat is a sturdy animal.
There are three species of wombats: the common wombat, the southern hairy-nosed wombat and the northern hairy-nosed wombat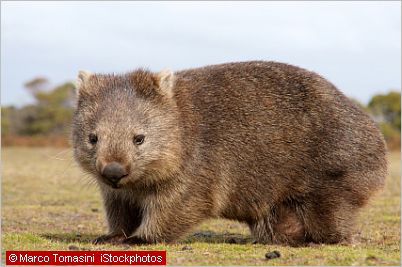 Wombats are nocturnal and spend most of the day in their extensive burrow systems. They can be found in south-eastern Australia, along the Nullarbour plain, and in Tasmania. Wombats are herbivores. They eat grasses, herbs, and roots. Their enemies are Dingos and the Tasmanian Devils.