Cameron Corner

Visit one of the remotest stores in the Australian Outback
---
Cameron Corner is the north western most point of New South Wales where the borders of three Australian states meet, Queensland, South Australia and NSW.



It is a remote and lonely place, far away from anywhere. However, in recent years Cameron Corner has become busier and busier. Especially since the late Sandy Nall opened the Corner Store in 1989 to offer meals, drinks, fuel and accommodation for the weary travellers.
Enjoy the pictures and travel tips to help you plan your journey to the corner country.
Table of Content (TOC)

Advertisement
Short history
Charles Sturt on his expedition to search for the Australian inland sea was the first European who explored the corner country.
A few decades later, the "corner" was named after John Cameron who led a party to survey the NSW / Qld border between 1879 and 1881. On his arrival on the intersection of the South Australian border in September 1880, he erected a wooden post. The pole was marked with "LAT 29" and "Cameron". It is on display at the National Park & Wildlife Office in Tibooburra.


Keep the border gate closed
The corner store - facilities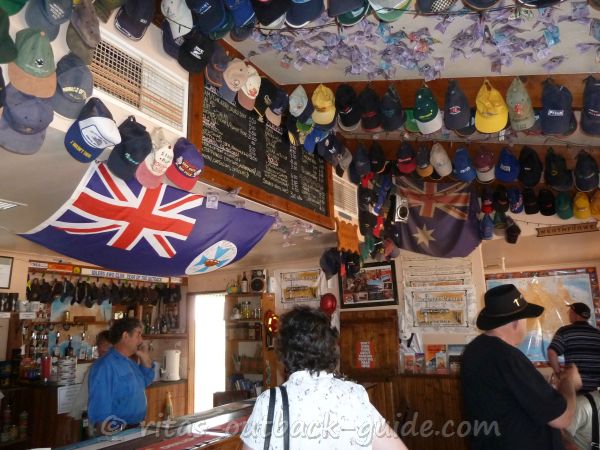 Today Cheryl and Fenn Miller welcome travellers who come to enjoy the rugged country, beautiful landscapes and historical attractions of the corner country.
The Corner store is open 7 days a week and offers meals & snacks, drinks and souvenirs. The rolls and pies were delicious.
Air-conditioned rooms with linen and shared bathrooms, camping, camp kitchen.
Airstrip for light planes.
Fuel (unleaded and diesel) and minor repairs.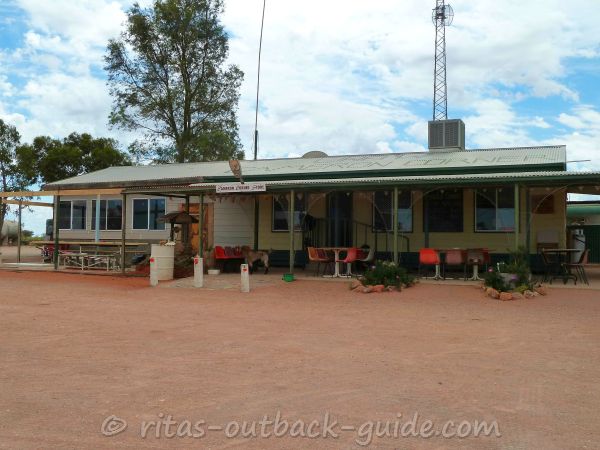 Cameron Corner Store & Roadhouse

Finally, I had the chance to travel to Cameron Corner a couple of years ago. I really enjoyed the trip in that part of the country. Despite the unusual amount of rain the Australian Outback received in that year, the roads were not as bad as expected. It was wonderful to see so much fresh green and lots of wildflowers.


Memorial dedicated to Sandy Nall
Location and Quick Facts
Cameron Corner is located the intersection of longitude 141°east and latitude 29°south at an elevation of 112m.
The Corner store is on the Queensland side and belongs to the Bulloo Shire. However, the area code for phone calls is the 08 of South Australia.
The famous Dog Fence follows the SA/NSW and NSW/Qld borders closely.
Best time to travel is from March to October. From December to February it is pretty hot, these are the months with the most amount of rain.
Time Zones: Three states, two time zones Australian Eastern Standard Time (AEST) and Australian Central Standard Time (ACST), during summer even three zones because Qld doesn't have daylight saving.


Galahs sitting on the dog fence
Driving Distances from and to Cameron Corner
Coming from Broken Hill / Tibooburra you drive through Sturt National Park and finally arrive at a gate in the dog fence. Remember, this gate must be shut all times. So please close it after you've passed.
From Broken Hill 476km via Silver City Highway
From Tibooburra 139km along Cameron Corner Road & The Dunes Scenic Drive

From the Strzelecki Track in South Australia 119km along Merty Merty Road, or Riecks Road
From Innamincka (SA) 274km via the new Strzelecki Track
From Noccundra in Queensland 242km

On the map below you see the routes you can take out of the capital cities, but you can adapt the routes to your liking. To give you an idea, here are the approximate distances:
From Adelaide 990 km
From Melbourne 1300 km
From Sydney 1300 km
From Brisbane 1500 km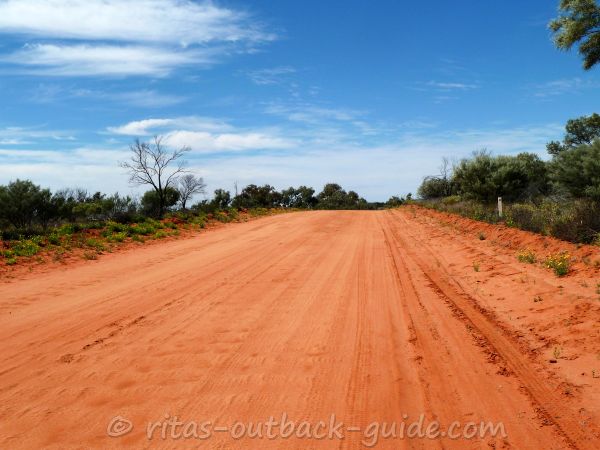 Driving through Sturt National Park
Advertisement


Road conditions
All roads to the Cameron Corner are unsealed, road conditions can change from one day to the other. You can make it with a normal car (if it is not a hired car) with care in dry weather. Trailers and vans should have a strong suspension and you should have experience towing on rough roads.
Always expect cattle and other animals on the road, slow down when you see them along side.

This is remote country, be well prepared, take a lot of water, some tools and a spare tyre. Check the road conditions for South Australia, New South Wales and Queensland before you go.

You could also contact Fenn and Cheryl Miller at the Cameron Corner Store, Phone: (08) 8091 3872, before you go.


Cattle alongside the road to Cameron Corner

Cameron Corner has an unique and relaxed atmosphere. Sip a drink on the veranda, chat with other travellers and enjoy the beauty of the Australian Outback.
Need a map for your Outback journey?
Click on the image to find a road atlas, maps, or any other travel gear for your journey!


Paid Link -
Read my affiliate policy
Discover destinations in the far west of NSW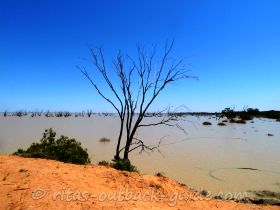 Outback New South Wales - Overview
Explore famous places like Silverton, Corner Country, Menindee Lakes and the Darling River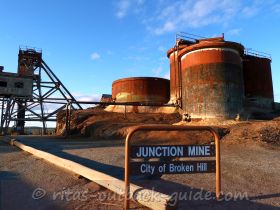 Broken Hill
The only city in this part of NSW has a lot to offer. Stay a few days to discover all attractions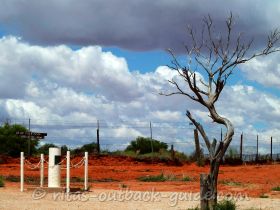 Cameron Corner
Visit the one of the remotest stores in the Australian Outback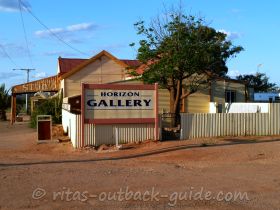 Silverton
A town with lots of character and the stunning Mundi Mundi plain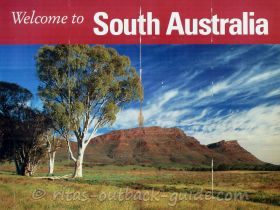 Outback South Australia
See ancient mountains, open plains, glistening salt lakes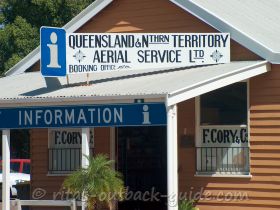 Outback Queensland
Discover history & tales along the Matilda Way
---
Advertisement

The articles below help you to plan your journey