Barrier Highway
An Outback journey from New South Wales to South Australia

---
The Barrier Highway connects NSW's central west with the Clare Valley in South Australia. The 1016 km road starts in Nyngan, where it branches off the Mitchell Hwy, and then travels through the remote Outback to the South Australian border. In SA the highway continues in a south western direction until it joins South Australia's Main North Road at Giles Corner.
Some people might tell you it is a dull and boring drive, but I disagree. I travelled the route up and down more than once, and often I discover new features. Know what to look for (find heaps of info on this page), take your time, and enjoy another great journey through the Australian Outback.



You think that doesn't look much like Outback, right? This photo was taken in October 2010. It had been a very wet period in south west Queensland and north west of New South Wales. I never saw so much water, wildflowers and a beautiful green scenery in this area. However, it might be different when you travel there.

Barrier Highway - A quick overview

The Barrier Highway runs 637 km through New South Wales, that's nearly 2/3 of the entire trip. This is also the section that appears to be lonelier than the 376km through South Australia. However, the few NSW towns have a lot in store for visitors, so plan at least one overnight stop.
The most important information is that the entire route is a sealed highway in good condition. You don't need a 4 WD vehicle, just take your family car.

However, you'll travel through a remote area which is sparsely populated. Plan a little ahead, know where you want to stop, where to get fuel and accommodation.
Don't drive in the dark to avoid hitting a kangaroo, emu, or whatever roams on the road at night.


These are the sections of the entire journey. Click on a link below to find info about what to see, worthwhile detours and where to stay.
New South Wales
South Australia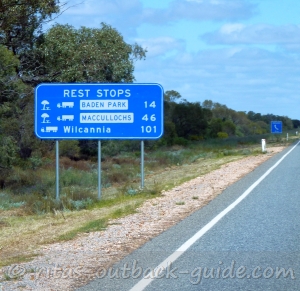 A sign announcing rest areas between Cobar and Wilcannia, just after you pass Emmdale Roadhouse.

Be sure to stop frequently to avoid drowsiness.
Nyngan to Cobar - 132 km

Nyngan (population approx. 2100) is a country town on the banks of the Bogan River. It is here where your journey along the Barrier Hwy begins. 

The historic railway station, it is home of an interesting museum with artefacts and pictures of the local area. The museum also displays photos of the devastating Nyngan flood of 1990, when the entire town was flooded and its people were evacuated.
Nyngan provides the usual facilities, hotel and motel accommodation, a caravan park, IGA and Foodworks supermarkets, and fuel stations.

---

There is not much to see as you travel along the Barrier Highway towards Cobar. This is an agricultural area, be aware that you could encounter sheep or cattle on the road.

Fuel is available at Hermidale, a tiny town 46 km east of Nyngan. As you travel further, there is the Florida Rest Area, 50 km before you arrive in Cobar.


Visitor Information Centre Cobar -
an impressive heritage building
Cobar Open-Cut Mine -
Fort Bourke Hill lookout

Cobar (pop. ~ 4000), the mining town on the junction of the Barrier Highway and the Kidman Way has a rich cultural heritage. Discover 19th century architecture, I especially like the red brick buildings. Fort Bourke Hill Lookout is worth a visit, here you look deep into the open-cut mine. Get more information from the tourist info, located in the former administration building (circa 1910) of the Cobar Mine.
Facilities: Cobar offers all major facilities you'd expect in a town of its size, supermarkets, fuel & repair services, hotels and motels. Check out where to stay in Cobar.

---
Cobar to Wilcannia - 261 km

A long straight road
Oversize truck

The Barrier Highway continues as a long straight road outside of Cobar. But don't get sleepy, always expect hazards on the road, like this huge oversize truck. Stop your journey for a few minutes and refresh your senses frequently.

There are several rest stops along the way, Meadow Glen, Bulla Park, Baden Park and the Emmdale Roadhouse, the only place to get fuel.


Detour to Mount Grenfell Historic Site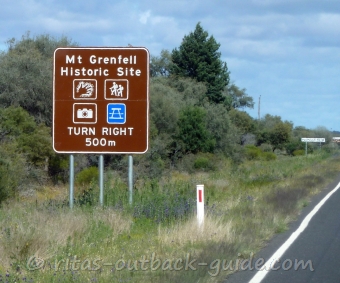 Sign announcing the turn-off to
Mount Grenfell Historic Site
About 40 km past Cobar is the junction to the Mount Grenfell Historic Site which protects Ngiyampaa rock art.
After the turn-off follow a gravel road for another 32 km until you reach the picnic area at the Mount Grenfell Historic Site.  

From here it is an easy walk to appreciate three galleries of rock art.

Experienced bush walkers can also take the Ngiyampaa walking track to the summit of Mount Grenfell.

This is very remote country, be well prepared and always take water with you when hiking. Best time to visit is winter and spring. Click here to get more information on the NSW National Parks and Wildlife Service website.

Wilcannia (pop ~ 540) used to be the third-largest river port in the heydays of the riverboat trading area. Today the small town is the administration centre of the Central Darling Shire, and it struggles like many other country towns to survive.
There is a lot of controversial information about Wilcannia online, in guide books and advice from people. The general tenor is that it is dangerous to stop in Wilcannia at all. Problem is, when nobody stops to support the local businesses, the closed and barricaded shops will increase. However, there are also messages from people who actually spent time in town, and say that everyone is friendly, and they enjoyed the local history.
Although it is a bit depressing to see so many places closed, I didn't encounter any problems when I stayed overnight. The impressive sandstone buildings are really worth to explore. Take your time and read the signs in front of the buildings to learn about the history.
Facilities in Wilcannia: Service station to get fuel, some groceries, a cooked meal and take-away food and motel rooms. There is another motel, a caravan park operated by the council, and a park that offers camping and cabins along the riverside.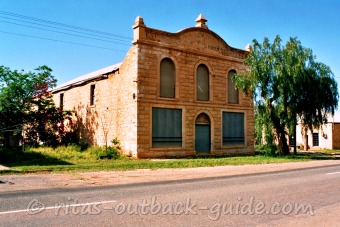 Rich and Company Bond Store
Darling River at Wilcannia
Detour from Wilcannia - Darling River Run

You can leave the Barrier Highway to travel along the Darling River to the north to Bourke, or to the south to Menindee. You can drive on either side of the river, these roads are unsealed, so ask in Wilcannia which route is in better condition.
There is a lot of history to explore, especially on the northern stretch where you pass by the old river ports Tilpa and Louth.
Another place to visit from here is the opal town White Cliffs, 73 north of Wilcannia. It can be reached on the sealed Opal Miners Way.

Wilcannia to Broken Hill - 198 km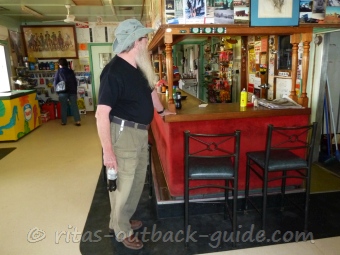 Stop for fuel, snacks, drinks and a chat at Little Topar Roadhouse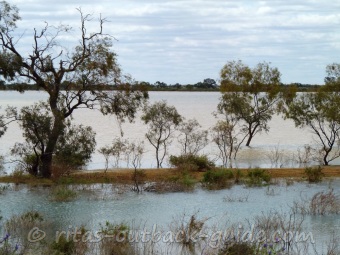 Water at Big Bilpa Creek next to the Barrier Highway is an unusual sight

Apart from a few rest stops, Little Topar Roadhouse is the only place to offer fuel, drinks and food. This is a typical Outback pub in the middle of nowhere, it is really worth to take a rest here.

The scenery changes slightly on the section from Wilcannia to Broken Hill.
Red sand, low bushes, and finally, the ranges that gave this Outback highway its name, the Barrier Ranges appear on the horizon.


Approaching Broken Hill and the Barrier Ranges

Broken Hill (pop ~ 18,500) is an inland mining city far, far away from any major city. Sydney is roughly 1200km to the east and Adelaide 500 km to the south west. No wonder, Broken Hill's clocks tick Adelaide/South Australian time.

Click here to read about the attractions of Broken Hill.
It is absolutely worth to stay a couple of days here, and absorb the great Outback atmosphere once you leave the city.

Recommended day trips include a tour south to Menindee and the Kinchega National Park.
Don't miss Silverton and the Mundi Mundi plains, absorb the fantastic Outback light on an afternoon trip to the north-west from Broken Hill.

---
Barrier Highway in South Australia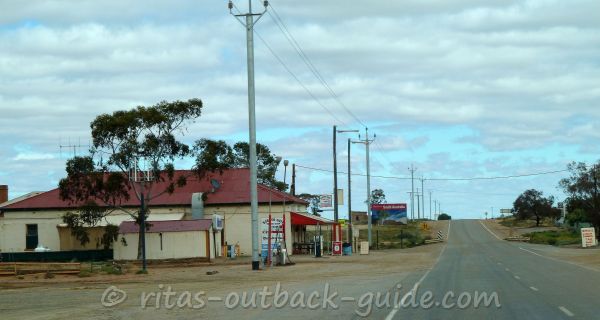 Border Gate Truck Stop, Cockburn

50 km past Broken Hill you reach the border to South Australia in the little town Cockburn.
The South Australian section of the Barrier Highway is my favourite part, I can't really explain why. Wide open spaces, sandy creek beds, a barren landscape covered with salt- and bluebush - this is easily accessed and interesting Outback.

The Sydney to Perth railway line runs very close to the highway, if you are lucky, you'll see a freight train, or even the famous Indian Pacific.

The route is dotted with tiny towns, usually not more than approximately 50 to 60 km apart. There are pubs, museums and historic railway sidings to discover, it is really worth to stop for a while.

In the early 1990s the South Australian Government intended to close down the small settlements along the highway, which led to an uproar by the communities.
Since then, the townships have fought hard to stay on the map. However, not every locality and business will survive, I am afraid. So, it is really good when travellers stop in these places and do some business with them, even if it just to buy an ice cream.

Towns & Facilities - Broken Hill to Yunta - 195 km

Olary Creek
Manna Hill railway station
Detour from Yunta to Arkaroola and the Flinders Ranges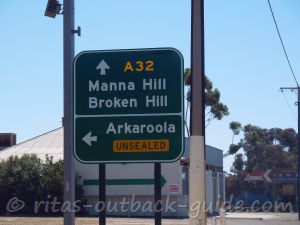 Arkaroola exit at Yunta
The 300 km gravel road to Arkaroola is a shortcut from the Barrier Highway if you want to spend time in the Flinders Ranges, or other Outback destinations in South Australia.
It is a lonely drive with no facilities along the way, so be well prepared. Ask for road conditions at the roadhouses in Yunta before you go.

See what Arkaroola has to offer, click here for some stunning pictures of the region.

Towns & Facilities - Yunta to Burra - 159 km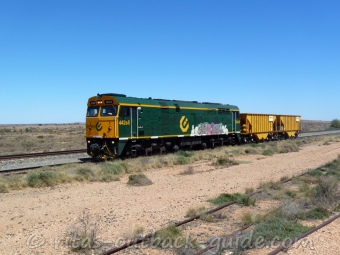 A locomotive close to the highway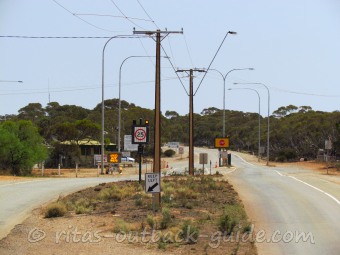 Fruit fly inspection zone in Oodla Wirra

Oodla Wirra - a few houses, a water tank from the railway, and the Half-Way-Hotel is what you find in this small town. If you are driving towards Adelaide, and you carry some fruits or veggies, you better stop opposite the hotel for a meal. Otherwise, be prepared that you have to throw fresh fruit and greeneries into the quarantine bins at the fruit fly inspection area.
The Barrier Highway swings to the south, and shortly after the Hutton Lagoon Rest Area is the exit to Peterborough, Port Augusta and the Flinders Ranges.
The scenery changes as you have left the arid zones of the Outback. The road continues through South Australia's agricultural region. In a draught, you won't notice the changes so much, however, in good years, and especially in spring, you'll see fresh green and canola fields everywhere.
Terowie is a stunning old town a little off the road. Take your time to walk around this little gem. It might look like an abandoned ghost town, but it is not.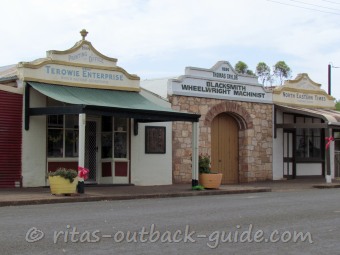 Historic shop fronts in Terowie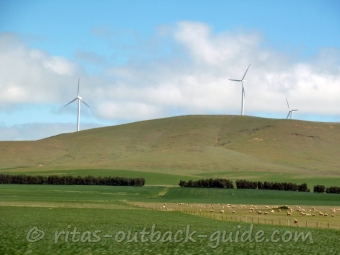 Wind turbines of the Mount Bryan windfarm

Whyte Yarcowie, Hallett and Mount Bryan are tiny localities that served the former Peterborough railway line. They provide some basic services, but don't rely that fuel available is in every town.

Several roads and highways branch off to the west of the Barrier Highway, to reach the southern Flinders Ranges and to South Australia's mid-north.

---
Burra to Giles Corner - 72 km

Since 1995 I've stopped in Burra whenever I came close to this beautiful old mining town. There is so much to see (old mine, goal, railway station, etc.), that there will be a separate Burra entry on this site very soon. Stay overnight in old mining cottages and smell the history.

North of Burra on the Barrier Highway, there is the well-known Midnight Oil cottage. This is probably Australia's most famous homestead ruin. Photographed by Ken Duncan, the cottage appeared on the cover of Midnight Oil's album Diesel and Dust in the 1980s.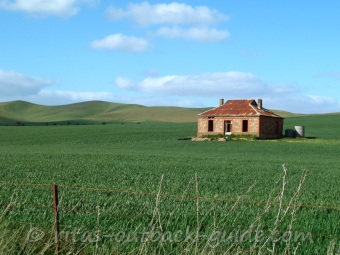 Midnight Oil House
Photo taken September 2012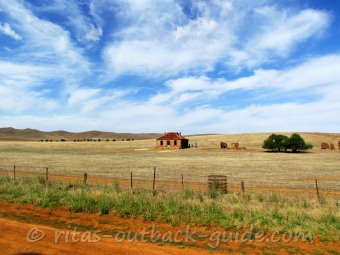 Midnight Oil House
Photo taken January 2019

Detour from Burra: Take the Farrell Flat Road to Clare and the lovely Clare Valley. Then you've definitely left the Outback to discover one of the best wine-growing regions in South Australia.

Travelling south from Burra, there are only two towns, Saddleworth and Riverton, before the Barrier Highway ends at Giles Corner.

The Saddleworth Cafe offers tasty food while Riverton has some historic houses, and a huge railway station. The railway station is now privately owned, but you can rent and sleep in an old carriage.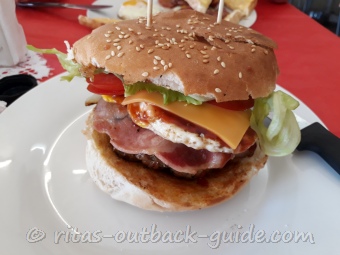 Saddleworth cafe
Scholz cottage Riverton

I hope you are going to enjoy your trip along the Barrier Highway, or parts of it. The journey lets you discover some fine Outback destinations, all on a sealed road. Nevertheless, this is remote country. Plan well ahead, and take frequent rests to avoid fatigue. Below you will find links to other articles to help you plan your drive. Have fun and safe travels.

Discover destinations along the Barrier Highway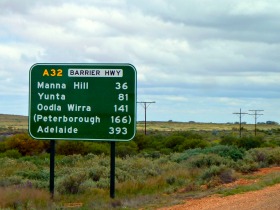 Barrier Highway - the entire route
Drive through the Outback in NSW and South Australia to the southern wine regions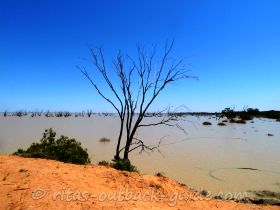 Outback New South Wales - Overview
Explore famous places like Silverton, Corner Country, Menindee Lakes and the Darling River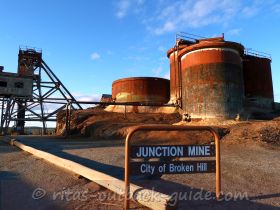 Broken Hill
The only city in the far west of NSW has a lot to offer. Stay a few days to discover all attractions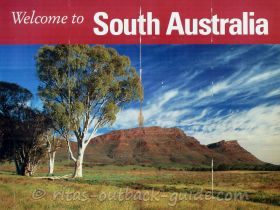 Outback South Australia
See ancient mountains, open plains, glistening salt lakes
---
Read these useful articles to plan a trip in remote areas