Arkaroola Tour Day 1
After we climbed up to the Dodwell Observatory for an overview of the village, we drove westwards to Nooldoonooldoona Waterhole and the Wheal Turner mining area.
Dodwell Observatory was the first of Arkaroola's three observatories. It was built in 1986, named after George Frederick Dodwell, an South Australian Governement astronomer.
Being so remote, Arkaroola has the best astronomical seeing conditions, it is free of light pollution.
The Dodwell Observatory is just above the village. It is worth to climb the small hill and enjoy a great view over the resort.
Erosion has exposed the granite core of needles and pinnacles in the Mawson valley.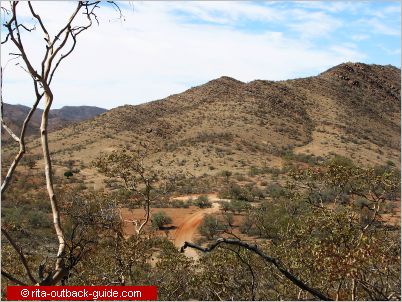 The valley is named after Sir Douglas Mawson, Australia's famous Antarctic explorer and geologist. He also spent a lot of time researching the geology of the Flinders Ranges.
Reg Sprigg was a student of Mawson, he discovered fossils about 600 million years old in the Flinders.
The copper smelter at Bolla Bollana was not long in use. It is doubted if the kiln was ever fired.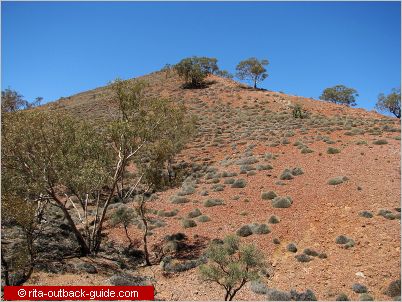 Hills around the old Wheal Turner Mine are covered with spinifex, or porcupine grass. The latter name describes the good-looking grass hummocks best.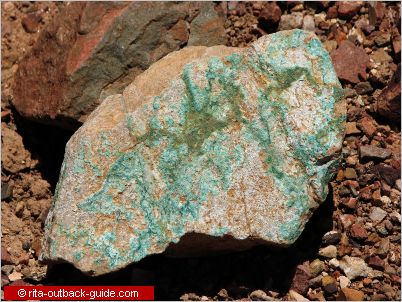 You'll find many stones with the bright green copper outcrops in the Arkaroola area. Yet, most deposits proved to be small. Apart from Blinman and Sliding Rock, mines didn't make much profit in the northern Flinders Ranges.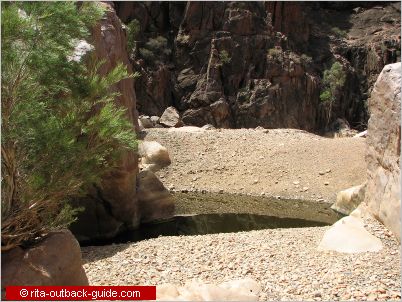 Nooldoonooldoona (Nuldanuldanha) waterhole is about 11 km from Arkaroola. According to the dreaming stories, Akurra, the powerful serpent of the dreamtime, created the waterhole. Some Aborigines rolled large stones down the hill to kill him. You'll see the stones in the creekbed.

When you walk the few metres to the waterhole, you'll notice that the stony ground is glittering. These stones must contain minerals, quartzite or something. It looks really beautiful.