Outback New South Wales

Back O' Bourke, Darling River & Corner Country
---
Wide open spaces, rugged rocks, sandy plains with mirages, deep-blue skies, diverse wildlife, unique pubs and historical places await you in the Outback New South Wales.
But wait! The far west of NSW is not all red earth and dust!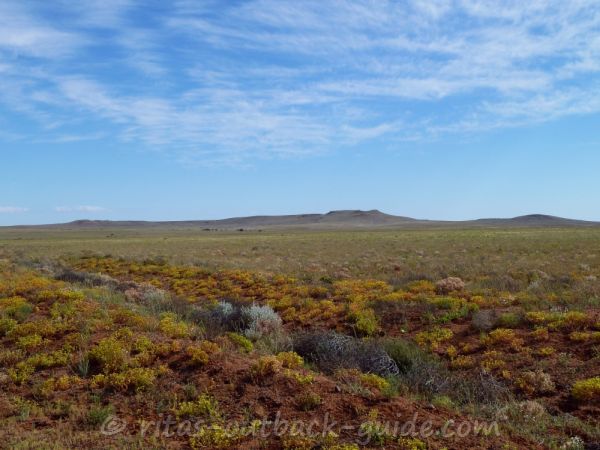 Landscape in the far west

The majestic Darling, Australia's third largest river, meanders through Outback NSW on its way to meet the Murray river in Wentworth. So don't forget your fishing rod when you head out there!
Come on! Pack your car and discover a stunning region. Outback New South Wales has a lot in store for adventurous folks and also for those who prefer a little comfort during their travels. You will enjoy it!


Outback New South Wales - Table of Content (TOC)

Routes and attractions in a south-north direction

Routes and attractions in a east-west direction
Advertisement
Where is the Outback in New South Wales?
The far west of the state which borders to South Australia in the west and Queensland in the north is called the Outback. You can roughly say the area west of the Mitchell Hwy (B71) and the Kidman Way (B87) belongs to the dry and lonely back country.
However, there is no noticeable border, so the western parts of the Orana region (the shires of Bourke, Cobar, Brewarrina) certainly can be considered Outback as well.

The Sturt Highway (A20) from Buronga to Hay marks the southern boundary.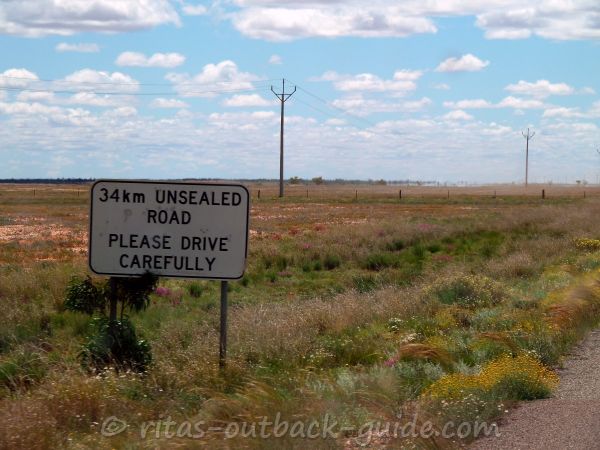 Unsealed patches of the Silver City Highway north of Broken Hill

Outback NSW can be reached on major highways from the east coast. Bourke, Broken Hill, Silverton, Menindee, Cobar & Wilcannia, Balranald & Hay... drive on good bitumen roads to these unique cities & towns.
Several national parks and nature reserves wait to be explored by the keen bush walkers. Discover Aboriginal cave art, stunning features of nature, historic homesteads and sheering sheds.


Silver City Highway (684 km)
This is the westernmost route that leads you from the irrigated vineyards at the Murray River to Broken Hill and further north to Tibooburra and the Queensland border. The road starts in Buronga, at a roundabout, where it branches off the Sturt Highway. There are a couple of short unsealed sections north of Broken Hill, otherwise, it is a good bitumen road all the way

Attractions along the way
Confluence of the Darling and Murray Rivers in

Wentworth

Great Darling Anabranch, an 460 km ancestral path of the Darling river


Broken Hill

is the major centre in the far west. It is a wonderful place to enjoy city life before (or after) a major journey into the loneliness
Silverton and the Mundi Mundi Lookout - The famous Outback ghost town has attracted artists and film makers. Actually, it is not a real ghost town, the famous pub, galleries and the tea rooms offer services for visitors.
Don't miss the Mundi Mundi lookout a few kilometres out of town. If possible visit for a sunset experience, it is awesome!
Explore the history of the Corner Country, Milparinka, Tibooburra and Sturt National Park.
Visit Cameron Corner, where three states meet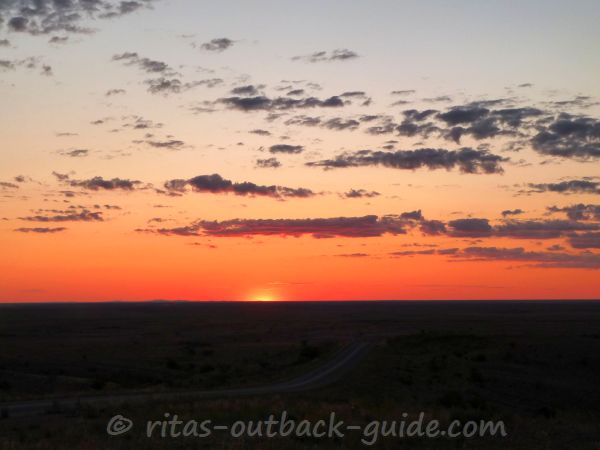 Sunset at the Mundi Mundi lookout near Silverton
Cobb Highway (610 km)

This road is named after the Cobb & Co coach company. It is part of a heritage touring route called the Long Paddock, a tourism initiative founded by the towns along the way. Discover the history of Deniliquin, Hay and Ivanhoe, laid-back rural towns far away from the busy cities.

The Cobb Hwy is 610 km in its entire length from Echuca in the south, to Wilcannia. North of Ivanhoe begins a 135 km (approx.) unsealed section that is a dry weather road.
D(r)ive back into history, when drovers moved large cattle herds on the stock routes in this part of the country.

Kidman Way (644 km)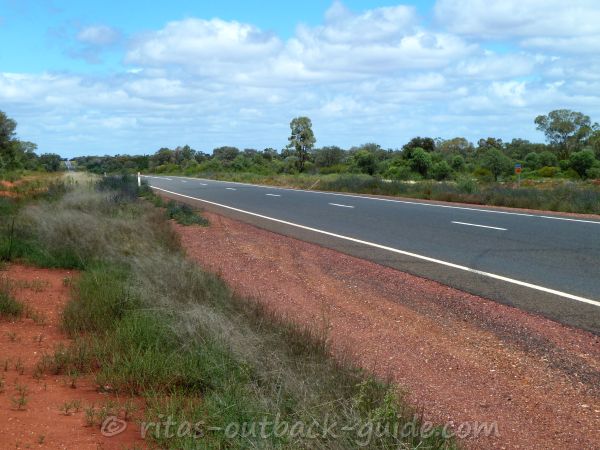 Kidman Way between Cobar and Bourke
You might say the above photo doesn't look much like Outback. It certainly is a lonely route. We were lucky to visit this part of the country after a series of good rain, so bushes, trees and wildflowers were looking fresh and green.

---

The Kidman Way branches off the Newell Highway north of Jerilderie. It connects the Murrumbidgee irrigation areas in the south with Outback towns further north.
It follows old stock routes which linked the huge cattle stations, many of them were owned by the "cattle king" Sir Sidney Kidman.
The Kidman Way is fully sealed. Be aware that there is a long stretch of 260 km without fuel between Hillston and Cobar.

Sturt Highway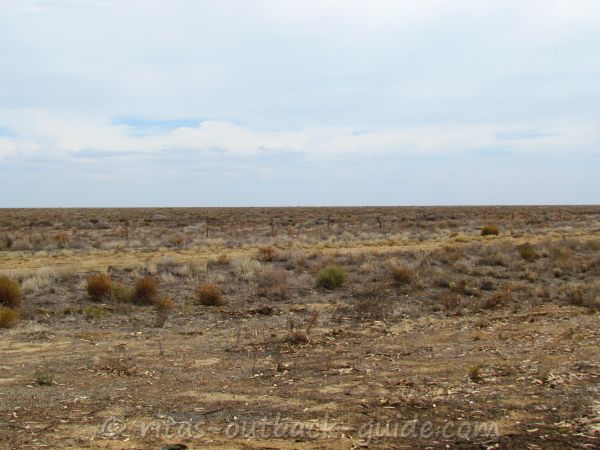 Between Balranald and Hay - Sturt Hwy

This is the shortest connection between Sydney and Adelaide. The Sturt highway follows roughly the route of the Murrumbidgee River, it is the southern boundary of what is considered the Outback in NSW.
Although the Riverina region is well-known as a productive agricultural area, and you see lush towns, this wouldn't be possible without the water supply and irrigation.
When you travel from Narrandera to Hay, Balranald and Buronga, you'll see a lot of dry salt bush on the flat plains outside the irrigated areas. The climate is hot and rainfall is scarce in these south western parts of Outback New South Wales.
Take your time for a detour to Mungo National Park and the Walls of China from Buronga. This 115 km drive takes you from the lush orchards on the Murray River along Arumpo Road to the heart of an ancient landscape. Buried in layers of clay and sand, the stories of this ancient land and their people, can be read.

Advertisement


Barrier Highway
Travelling along the sealed Barrier Highway gives you a real Outback feeling. The highway starts in Nyngan, and heads west to Cockburn near the South Australian border. The length of the route in New South Wales is about 630 km. The road traverses very remote country, towns and roadhouses are few and far between.
Attractions along the way
Cobar is a mining town with some interesting brick-built heritage buildings and churches

Go digging for opal in White Cliffs, who knows, you might make a fortune! 73 km detour from Wilcannia on the fully sealed Opal Miners Way
Wilcannia was once the third largest inland river port, and there are impressive brick buildings to explore. It is a sad sight to see hardly any water in the Darling River these days.
Wilcannia has been struggling with a bad reputation for years. I never had any problems during my visits. I read that things are changing to the better now, since the locals try to attract tourists to this historic town.

Click here to read about the entire tour along the Barrier Highway, from Nyngan to Giles Corner in South Australia. It is a worthwhile Outback journey on a sealed road.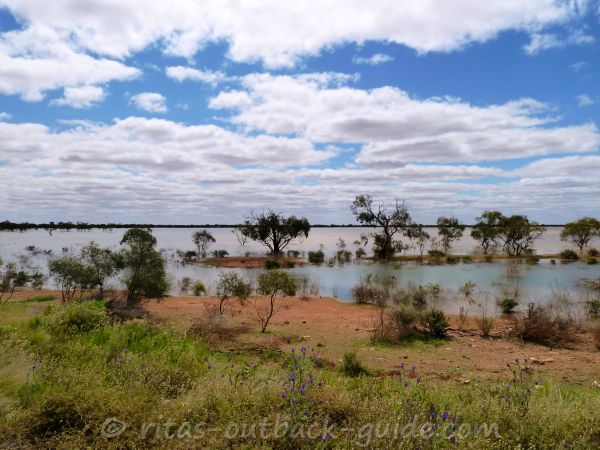 Near Little Topar Roadhouse - Barrier Hwy
It is usually very dry along the Barrier Highway. However, after some good rainfalls in spring 2010, there was a lake near Little Topar Roadhouse

---
Wanaaring Road (426 km)
This unsealed dry weather road takes you from Bourke to Tibooburra via Wanaaring. It is a long and lonely drive through true Outback country.
Fuel and supplies are available in both towns at each end of the route, and in Wanaaring, which is about half-way between.
Recently work has been in progress to seal the Bourke to Wanaaring part of the road, about 80 of 195 kilometres are now completed (2019).


Darling River Run (720 km)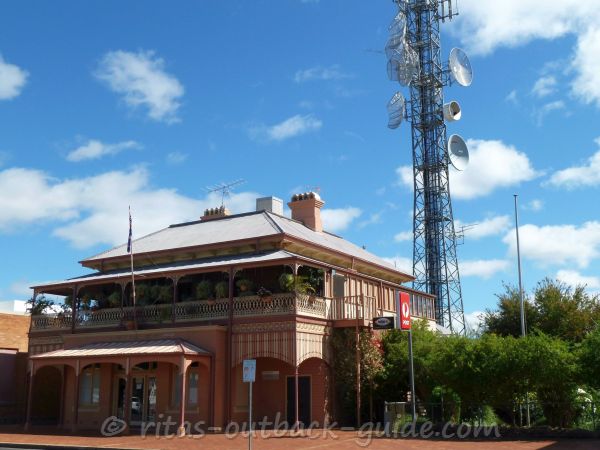 Post office in Bourke
These days it is easy to discover the location of the post office

---

Discover the history of the old river ports on a tour from Bourke to Wentworth, where the Darling river joins the mighty Murray.
The route along the Darling River is a dry weather gravel road, actually, there is a road north and south of the Darling. You can cross the river in Louth, Tilpa, Wilcannia and Menindee.
Check at either end (Bourke or Menindee) which road is in better condition. From Menindee there is only one road to Pooncarie, but then you have the choice of two roads again. The eastern route from Pooncarie to Wentworth is even fully sealed.



Sadly, the Darling doesn't hold so much water any more these days
Need a map for your Outback journey?
Click on the image to find a road atlas, maps, or any other travel gear for your journey!


Paid Link -
Read my affiliate policy
Road conditions and supplies
Fuel & Supplies
Roadhouses and towns offer basic supplies and fuel along the roads. There is usually no need to carry extra fuel. However, remote places might be in short supply of fuel after a rainy period. That is to say when the fuel truck doesn't get through on wet roads.
Road conditions:
Many towns can be reached on good bitumen roads, while other destinations might require a 4WD. Roads might be closed after rain.
Before you go, please check road conditions online or call RTA 132701, NSW western regions 80826660, and always check the weather forecasts.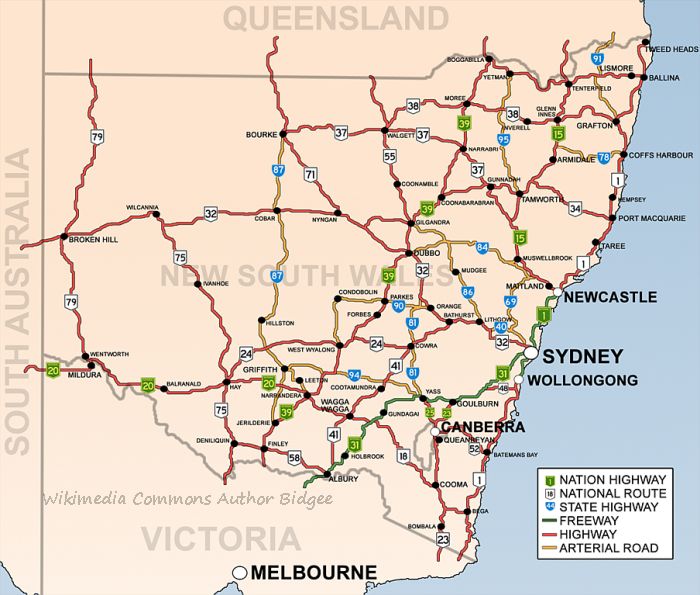 I hope you enjoy these beautiful places in Outback New South Wales as much as I do. Come back frequently, I add more stories from my travels in this stunning country.


Discover destinations in the far west of NSW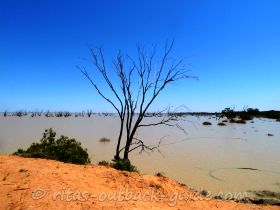 Outback New South Wales - Overview
Explore famous places like Silverton, Corner Country, Menindee Lakes and the Darling River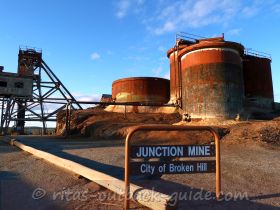 Broken Hill
The only city in this part of NSW has a lot to offer. Stay a few days to discover all attractions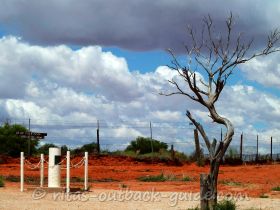 Cameron Corner
Visit the one of the remotest stores in the Australian Outback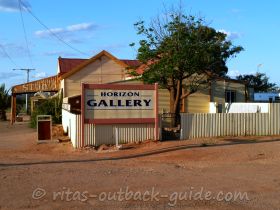 Silverton
A town with lots of character and the stunning Mundi Mundi plain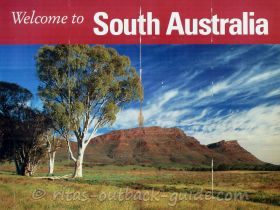 Outback South Australia
See ancient mountains, open plains, glistening salt lakes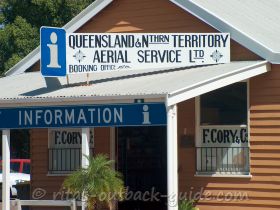 Outback Queensland
Discover history & tales along the Matilda Way
---
Advertisement

The articles below help you to plan your journey

New South Wales - The far west