Brisbane-Bourke-Broken Hill-Adelaide
by Jan van der Meulen - Submitted Oct. 2009
(Bontebok, The Netherlands)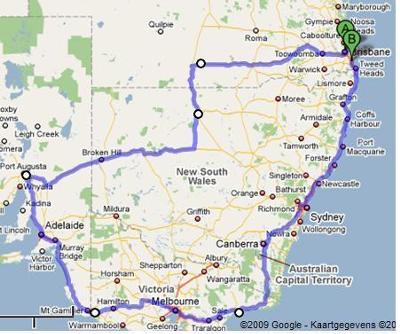 Route Brisbane to Adelaide
What would be the right choice?
Hello,
I'm planning a trip, starting around Dec 27th for 12? days to travel from Brisbane to Bourke to Broken Hill to Adelaide. I've rented a 4x4 Apollo Toyota Hilux for this trip. I'm not an experienced 4x4 driver (but have my license for about 35 years), but I'm longing to get to know a bit about that. As I'm curious about what the outback will offer me.

Could anyone give me a good advice about the route that would suit my needs? I do like to sleep in a hotel/lodge from time to time, but of course I didn't rent this camper for not sleeping in it.
Jan vd Meulen


Reply by Rita - Inland route is great!
Hi Jan,
Great that you added this map with your planned route. Just to understand you correctly, you want to go from Brisbane to Adelaide, right?
And route "A" would be via the inland, route "B" along the coast?
If you want to see the Outback, I would definitely take the inland route. This way you'll get an impression what the Outback looks like.
All roads marked on the map are sealed highways, so you won't need a 4WD at all.
If you want to go on an unsealed road for parts of your trip, you could take the "
Darling River Run
" from
Bourke
to
Wilcannia
. Ask in
Bourke
about road conditions. If the weather is dry, the route along the Darling River is an easy and very scenic drive.
You can drive along the Darling until
Wilcannia
, or, if you like more rough road, continue to
Menindee
, and turn north to Broken Hill from there.
Things to see along the way are tiny old river port towns, the Menindee lakes which supply the water for Broken Hill, and a huge shearing shed in Kinchega National Park.
From
Broken Hill
it is worth to visit the "nearly" ghost town
Silverton
, which is only 25 km away. Just 4 km north of Silverton is a lookout over the vast Mundi Mundi plains. You'll feel like on the edge of the world!
Once you arrive in South Australia, and have time left for a detour, the Flinders Ranges are really worth a visit.
Don't worry about lack of 4x4 experience. On this route you don't need to engage the 4x4. Check the car manual on how to change to 4x4 modus, this give you a good feeling, just in case. A 4 WD vehicle has a better ground clearance and is just more convenient if you drive on unsealed roads. Car rental companies don't allow you to take a normal car on a rough road, so you are free to go where you want with your Toyota.
Finally, the route along the coast via Sydney and Melbourne is really nice as well. However, in my opinion, landscapes are more like in Europe, you won't get an idea what the Outback looks like there.
BTW, you are aware that December/January is summer in Australia, it can get pretty hot. In the inland the climate is usually dry, whereas along the coast it can get hot and humid. For me, this would be another reason to choose the inland route.
Don't hesitate to ask more questions. Happy planning.
Rita
More information...