Rawnsley Park Accommodation
Your best choice to stay in the central Flinders Ranges
---
Rawnsley Park is a sheep station in the Flinders Ranges, beautifully located just outside of Wilpena Pound. Enjoy stunning nature and choose from a wide range of unique accommodation facilites.
I promise, you won't regret it!
Rawnsley Park is a wonderful spot, a very convenient place to explore the central Flinders Ranges.

In recent years the station received several awards for environmentally responsible tourism. Tony and Julieanne Smith, owners and managers of the station since 1984, are committed to protect the diverse vegetation at Rawnley Bluff.
Facilities range from low-budget bush-camping up to the luxury eco-villas. There is everything in between to suit all budgets.
Although Rawnsley Park accommodates around 200,000 visitors a year, you don't have the feeling it is a crowdy and busy place.
The eco-villas, the holiday units, and the caravan park are all set apart in the natural bush land.
I admit, I always drove from the holiday units area to the shop at the caravan park. I guess you would need 15 to 20 minutes to walk there.

I can tell you that I enjoyed my stay at Rawnsley Park thoroughly, and our friends loved the place as well. Friendly staff provides all information you need to make the most out of your stay.
Eco-Villas
The award-winning, luxury eco-villas are set on a secluded spot, giving you all the privacy you want.


Features include:
* One or two bedroom villas
* Retractable ceiling - it is beautiful to see the night-sky from your bed
* Fully equipped kitchen
* Wide verandah, outdoor settings with BBQ
The eco-villas are for those of you who want to be close to nature but with a touch of luxury.
Spoil yourself and book now
.
Holiday Units
The holiday units are fully self-contained and offer every comfort you need for your stay. Choose from one, two, or three bedroom units.


Features include
* Living room area with TV and DVD player
* Ensuite bathroom
* Fully equipped kitchen
* All linen provided
A laundry is within the area of the units. The Woolshed Restaurant is in walking distance and offers lunch and dinner seven days a week.
Watch Rawnsley Bluff changing its colours during sunset while you sit on the verandah enjoying your drink. It is beautiful.
Check out availability and book now.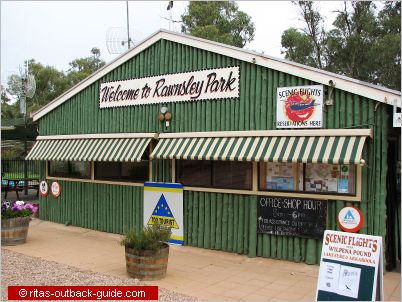 The
caravan park
also offers a wide range of accommodation styles and facilities. The park is in a beautiful bushland setting where chances to see kangaroos are very good.
* Park cabins with kichen facilities. Use the shared amenity block in the park
* Bunkhouse sleeps up to 48 in five rooms, linen supplied
* Powered caravan & camping sites
* Find a secluded bush camping sites if you want experience true Outback feeling
* A shop offers everything you need to cook your own meal. Souvenirs, maps and books of the region are available.
The friendly staff is very helpful. They tell you about the must see places and give great information.
Fuel is also available at the caravan park shop.
More amenities to enhance your stay include a pool, a camp kitchen and covered eating facilities.