Brisbane to Alice Springs
by Dennis - Submitted Sep 2001
(New Zealand)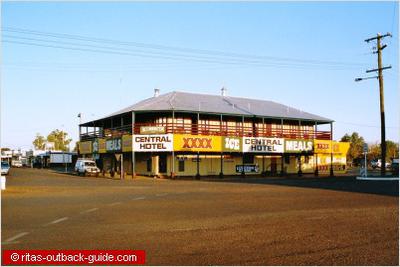 Cloncurry - Flinders Highway
Can I drive from Brisbane to Alice Springs and back (circuit via Mt Isa) on tarseal 2WD 6 Berth Camper ?

Hi, I want to travel from Brisbane to Townsville, Mt Isa, Alice Springs then south and back to Brisbane in a hired 6 berth camper. It has 2 gas bottles, 150 l of water and 80 l fuel.

Is this possible in 3 weeks for 3 adults and how much extra water/fuel needed, and do we have to go off-road? Which probably is not allowed by hire company.

Looking at doing trip in May/June 2012? Is the weather/season appropriate or are we naive/silly to contemplate such a trip?

Thanks heaps - Keen Kiwis 48-65yrs


Reply by Rita
Hi Dennis and the keen Kiwis,
You are neither silly nor naive to contemplate such a trip. And you are completely right, you can't go off-road with a hired camper. Most of the inland tracks won't be suitable for a 6 berth camper anyway.
So, Brisbane - Mt. Isa - Alice Springs is fine, bitumen all the way. When you go south from Alice, you have a long way to go, to Port Augusta exactly. From here you can go via Broken Hill, Cobar, Bourke back to Brisbane.
This is a huge circle, roughly calculated 6,700 km. That means you need to drive more than 300 km every day, or you have some long days driving a few 100 km more. As you are 3 adults, you can share the driving.
To be honest, this route would be too rushed for me.
Other options would be to go back from Alice to Brisbane via the same Mt. Isa route, or, you consider a one-way rental, say from Brisbane to Adelaide, and fly out from there as well.
This would save you a lot of driving, and you would have more time to relax and do sightseeing. Maybe you could go 4 weeks which means less driving.
May/June is fine, it's the dry season in the north. When you come further down south it will certainly getting colder, so bring some warm jackets.
Fuel won't be a problem, just fuel up before you set out for a longer distance without provisions. Get some maps that will show you the roadhouses along the way.
As for the water, you will need for cooking, dishes, shower?, so make sure to fill up the tank frequently. Take a few of those 10 or 20l spring water casks, just in case you don't get the chance to refill your tank.
Happy planning.
Rita
More information...