Big trip from Brisbane-Adelaide-Alice-Rocky to Brissy
by Matthew - Submitted July 2011
(Brisbane)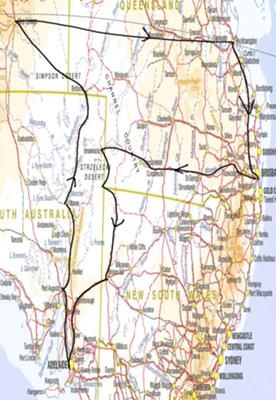 Hi, we are doing a family trip over Christmas to Adelaide. We want wanted to takes some sights in along the way, I have done a rough idea on the map of where we want to go.
We will be leaving here around the mid December to be in Adelaide for Christmas. We are looking at going to Innamincka, Cameron Corner then to Broken Hill before we head to Adelaide.

We will leave there just after new years to Marree to head up the Birdsville Track to Birdsville then to Alice Springs and on to Rocky.

We know it will be hot and that's ok. We have a budget of $15,000 for the trip after buying all the gear we need will that be enough? And we are keen to know about some nice places to visit along the way as we have never been out there before and don't know if we will do it again so we want to make the most of it.

We have a GU patrol 3L diesel getting ARB to kit it out with everything front and rear lockers, OME suspension kit 2 inch lift, winch, compressor, long range tanks 210 liters, recovery pack eg ropes max tracks exhaust jack tyre repair kit n all, 6 Mickey ATZ 4-rib tyres and a 6th rim and the new Hema and fridge so we are prepared for getting stuck and tyres blowing, also getting a few hoses belts and general tools too.

Would 60L water be enough for 2 adults and 3 kids and how much food should we take to last between towns? We are taking the tent so any ideas where to camp would be great. Are you allowed to pitch a tent just off the road if needed as we don't want to drive at night and any ideas on things we should be prepared for would be great too.

We do have a fair bit of 4x4 experience but mostly beach and mountains so can't imagine it would be too hard out there.


Reply by Rita
Hi Matthew,
What I don't see from your map is which way you want to go from Birdsville to Alice? That line on your map doesn't follow an official map me thinks, there is just desert.
If you thought to go west along one of the Simpson Desert tracks, you should know that the Simpson Desert NP and the tracks are closed during summer. At least this was the fact in the past years, and I guess they will continue with the policy for safety reasons. It is just too hot in summer.
So perhaps the better route to go west is along the Oodnadatta Track.
Your budget is still $15,000 after you bought all the stuff? That's more than enough, can't think of a place where you can spent that much money, especially when you are camping.
I admit I don't understand all the technical stuff you mentioned, but it seems that you are well prepared to do some repairs.
I would keep the 60l water as emergency ration in the remote areas, and buy water for your daily use. The water supply in the Outback is often only for washing/dishes etc. Many places have to rely on rain water from the tanks, and they don't share it with travellers. Bore water is often to salty in the Great Artesian Basin, and not suitable to drink.
If you have experience with driving on beaches you'll be fine.
Did I forget anything? Just ask away:)
Rita
More information...