Your personal first aid kit checklist
Put your own basic first aid kit together
---
With this first aid kit checklist I want to help you to put your personal items for an Outback trip together. It is easy to forget that minor emergencies can happen during a holiday.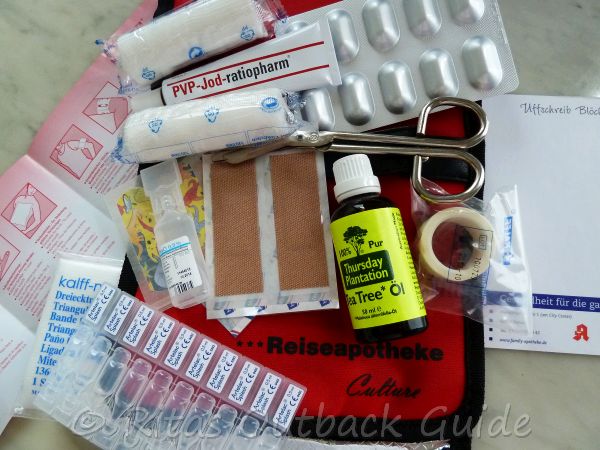 Actually, the list of first aid kit supplies below can be used for any vacation around the world. My suggestions are just for a general kit, and by no means perfect. However, it might a useful start to pack your own first aid supplies. Don't forget to add any prescribed medicine and adapt the kit for your own needs. 

Commercial first aid kits come in different sizes, styles and content. Choose the one that is appropriate for your kind of adventure trip.
Complete any commercial kit with your personal items to suit your needs. Anyway, please make yourself familiar with all components in the kit, and know how to use them.
When you have already a basic first aid kit from your last trip, check the use by dates, and replace all old and worn out packages.
Being prepared for all kinds of emergencies is part of the Outback safety. You can put your mind at rest when you carry the essentials to manage minor accidents. And hey, isn't all that planning and searching for the right stuff part of the fun? :)
First Aid Kit Checklist
These are the items I usually take with me. This first aid kit information is only a recommendation. It should NEVER replace your doctor's advice and your own judgment. What you need depends on your destination, and how remote and rough your trip will be.

band-aids - various sizes - for small wounds, cuts, scratches
sterile gauze dressings - various sizes - to cover larger wounds
light elastic bandage - 8 cm x 4 m - to fix sterile gauze dressings
elastic bandage/bandage crepe heavy duty - 8 cm x 5 m - to immobilise a limb or for pressure immobilisation to treat a snake bite
roll of adhesive tape - you can fix many things with it
bandage triangular - for slings
wound cleansing tissue - individual packed moist tissues to clean wounds
alcohol pads - useful to clean instruments
scissors
tweezers
safety pins
antiseptic cream
cream or gel for burns
eye wash / artificial tears phials - very useful if you have dry eyes, or your eyes become irritated because of the dust and sunshine in the Outback
antihistamine cream and pills - for insect bites and mild allergic reactions
tea tree oil - that's definitely my personal insider tip to treat mosquito bites. This unique Australian remedy is also a great antiseptic. People with sensitive skin should use the oil with caution
insect repellent - this helps to get rid of annoying mozzies and prevents illness caused by mosquito bites
sun block cream - one of the most important things to take with you. Don't forget to apply sun cream daily in the Australian Outback
pain killers - Aspirin, Paracetamol - for minor pain and fever
activated charcoal tablets - to stop diarrhea, also used to absorb food poison
antacid tablets - when your tummy gets upset
mineral & vitamin tablets - you won't always get fresh fruits and vegetables on an Outback trip, so I take them if the diet is not balanced
disposable gloves
multi-use tool - Swiss Army Knife, or Leatherman
notepad and pencil
small torch - just in case you search for something in your kit at night
record of your health problems
your personal medications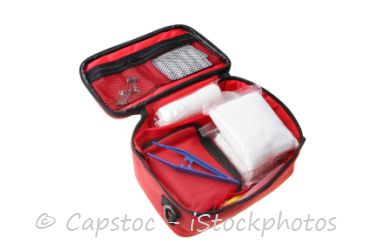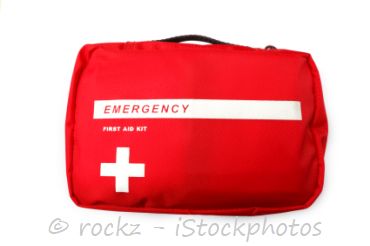 Don't forget to check your medicine chest at home. The items you store there might be useful to take for your trip.
Have a safe and healthy Outback trip!
Please note: Information on this page might be not complete. If you have any health issues check with your doctor to compile your personal first aid kit. 

Useful Tips for your Australian Outback adventure

---