With this first aid kit checklist I want to help you to put your personal items for an Outback trip together. It is easy to forget that minor emergencies can happen during a holiday.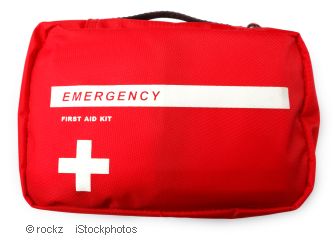 Actually, this list of first aid kit supplies can be used for any vacation around the world. My suggestions are just for a general kit, and by no means perfect. However, it might a useful start to pack your own first aid supplies. Dont't forget to add any prescribed medicine and adapt the kit for your own needs.
Commercial first aid kits come in different sizes, styles and content. Choose the one that is appropriate for your kind of adventure trip.
Complete any commercial kit with your personal items to suit your needs. Anyway, please make yourself familiar with all components in the kit, and know how to use them.
When you have already a basic first aid kit from your last trip, check the use by dates, and replace all old and worn out packages.
Being prepared for all kinds of emergencies is part of the Outback safety. You can put your mind at rest when you carry the essentials to manage minor accidents. And hey, isn't all that planning and searching for the right stuff part of the fun? :)
Advertisement