First outback trip
by Mitch
(Melbourne)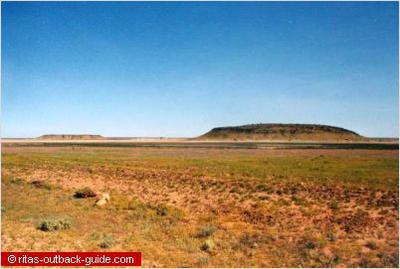 Kewson Hill - Oodnadatta Track
Hello we are hiring a 4WD Cheapa campa from Apollo (The Bushcamper sold out) and are picking it up from Alice Springs on Tuesday!

We are looking to do Alice Springs, Kings Canyon,
Ayers Rock, Dalhousie Springs, Marree, Hawker, Keith and Melbourne.

We are looking to do as many 4WD tracks as possible however we aren't very experienced. Do any of those routes sound problematic?

We are hoping to do the Mereenie Loop from Alice/Kings Canyon/Uluru then cross the Stuart Highway and head from Kulgera to Dalhousie via Finke and Mt Dare.

Then a night in Coober Pedy, then Marree via Williams Creek.

As we go in a week do you think these roads will be ok for inexperienced 4WD drivers if it doesn't rain heavily?

Also any tips? Are we missing anything big out?

Thanks

P.S this website is great!


Rita's Reply
Hi Mitch,
Hey, my first real Outback trip covered nearly the same route! We were inexperienced at that time, but everything went well.
Make sure that you get to know your car, read the tips in the manual, try how to engage the 4WD before you really need it. Check the tools, perhaps buy some small parts that will help you to fix things. Read the tips on the
How to prepare your car
page.
None of the roads and tracks are usually so bad that they would require to drive in 4WD mode all the time, but the higher clearance of a 4WD helps that you don't hit every rock on the road.
Some of the unsealed have been badly damaged after all that rain, some are perhaps still closed. Check the websites of the road report services, they have also recorded messages when you call them.
Ask for advice anywhere before you leave the bitumen roads.
Talk to fellow travellers on the way. I reckon chats about road conditions are fairly common on campgrounds right now.
Ring Mount Dare Ph- 08 8670 7835 before you leave Kulgera and ask about the roads. There was so much rain in this area, this could be the most difficult section.
It seems you can't go from Dalhousie to Hamilton via the Pedirka ruins. The Pedirka access route is closed for an unknown time. So you have to go from Dalhousie to Blood Creek and Eringa and then south to Oodnadatta.
Take a good map that covers the area.
With the uncertain conditions at the moment nobody can say if you can do the entire trip as you planned it. Just take one step at a time. Outback travellers have to be flexible, lol.
I can't guarantee you that you can do all the 4WD tracks, but you will have a wonderful trip.
Drive slowly and carefully. Have a good time.
Rita
PS Thanks for the compliments.
More information...