Googs Track through to Mt Ive
by Ken P
(Melbourne)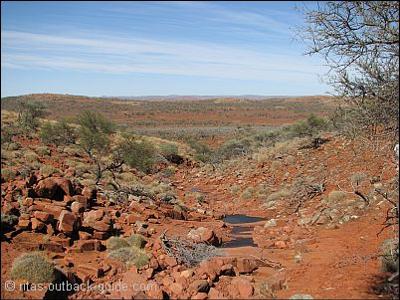 Mount Ive Station
We're planning to do Googs Track (SA) and through to Mt Ives and Lake Gairdner, etc in October 2011.
Can anyone update us on current track conditions on Googs, especially its suitability for towing the T-Van camper-trailer through with our diesel Pajero?
Any tips on useful stuff to take with us (other than the usual 4WD outback & recovery equipment)? Also please any info on permits necessary and where we obtain those from?

Thanks
Ken P

Original post Aug 01, 2011

---
Rita's Reply
Aug 07, 2011
Hi Ken,
Mount Ive Station, the
Gawler Ranges
and Lake Gairdner are beautiful, and fairly easy to access.
I admit, I have never travelled the Googs Track, something i should plan in the future.
I found a useful
description of the Googs Track
, and I hope it helps you to plan your trip. there is also info on where to obtain the permit.
This seems to be a very remote route, so take plenty of water and be self-sufficient.
Take care.
Rita
---
Kingoonya Pub & Goog's Track
by: KenP
Oct 25, 2011
Well having now travelled Goog's Track and progressed through to Mt Ive Station and the Gawler Ranges National Park in SA I can report as follows:
Goog's Track
The track is generally good and enjoyable 4WD country. The bush-camp areas at Goog's Lake and Mt Finke are well spread out and both sites provide access to good walking experiences. Bird life and wildflowers are prolific at the moment. However, the larger sand dunes on the track are badly chopped out where previous travellers have become stuck so the ride gets very bumpy when you cross these dunes. We did tow our T-Van camper trailer with our Pajero diesel, but I wouldn't exactly recommend towing a trailer through this track because of the potential for further track deterioration.
Kingoonya Pub
Sad news - the pub is closed again until further notice. Unfortunately one of the licencees (Colin Burns) has died. They apparently do intend to re-open at some future stage, so I'd suggest just monitoring their website for details. Fuel is still available however through the ATM-linked fuel pumps. At $1-60 per litre we were glad to find it still working.
Mt Ive Station
This homestead still provides very good campoing facilities and basic supplies in their little shop. Some very enjoyable 4WD tracks can be accessed on their property for $40 per vehicle. Access to the southern end of Lake Gairdner is worth seeing because you also see the facilities that are in place for the annual (March) gathering of the Desert Lakes Racing Association.
Gawler Ranges National Park
Plentiful bush camping areas make this a good destination. Note there is a shower and toilet only at the Kolay Hut campsite. The Organ Pipes are worth seeing, as is the walk to Policemen's Point Waterholes (access track is beside the Old Paney Homestead).