Christmas in the Outback
by jackie cresswell
(south wales)
From Alice Springs to Adelaide in 10 days, hoping to see MacDonnell Ranges, Kings Canyon, Uluru and Olgas, Cooper Pedy and Flinders Ranges.

Any suggestions? This is our first trip and am a bit concerned about distances and fuel stops etc.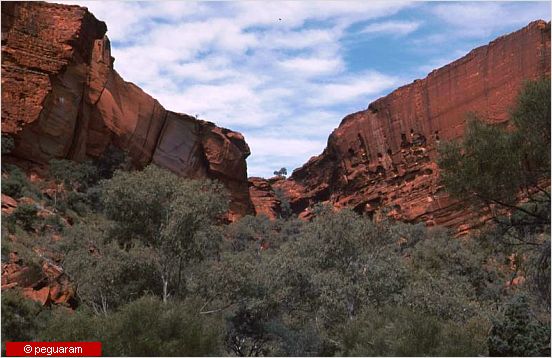 Rita's Reply
Hi Jackie,
You are right, that's a long distance from Alice Springs to Adelaide, with detours to the MacDonnell Ranges, Kings Canyon and Uluru.
I don't know what kind of car you are going to hire, but a 4WD would save you quite a few detours.
With a 4 WD you could drive from Alice Springs to Glen Helen and explore all the gorges and canyons of the Western MacDonnell Ranges.
From Glen Helen you could go directly to Kings Canyon via the Mereenie Loop Road. This Road is unsealed, and you are certainly not allowed to use it with a conventional hired car.
It is not a bad road in dry weather, it can be corrugated, but if you take it slowly, it is a wonderful drive, the landscape is beautiful.
From Kings Canyon you reach Yulara and the Uluru / Kata Tjuta National Park on a sealed road, and the road to the Stuart Highway is also sealed.
Distances for the route Alice Springs - Glen Helen - Kings Canyon - Yulara / Uluru:
Alice Springs to Glen Helen 132 km
Glen Helen to Kings Canyon via Mereenie Loop Road 225 km
Kings Canyon to Yulara 303 km
Please note
: The Mereenie Road is on Aboriginal Land, and you need a permit to drive here. Permits are available at Glen Helen Resort and Kings Canyon. Permits are only valid on the day you purchase them.
You are only allowed to stop at the designated rest areas, which was only one lookout point at the Kings Canyon end.
If you don't want/can't use the Mereenie Road you can do the Glen Helen Tour as a day trip from Alice Springs.
Alice Springs to Yulara via the Stuart Highway 443 km
Yulara to Kings Canyon it is 303 km, the same as above mentioned.
Kings Canyon to Erldunda 283 km.
You find more details on my
Stuart Highway
page. Looking for
Uluru Tours
? These unique tours might add to your Uluru experience.
There is no need to worry about fuel stops, there are plenty along the highways and also at Kings Canyon, Glen Helen and of course Yulara. Refuel in time, and you'll be fine.
Once you arrive in
Port Augusta
, you can go to the
Flinders Ranges
.
If you don't have much time left, go at least to Wilpena Pound for one night. From Wilpena to
Adelaide
it is 450 km drive which you can easily manage in one day.
One thing you should be aware of, central Australia will be pretty hot in December and January. This will give you a really different Christmas experience.
The average daily maximum in Alice Springs is around 35 °C.
Don't hesitate to ask more questions. Happy planning.
Rita