Just how far off-road can one go with an AWD Ford Territory ?
by Paul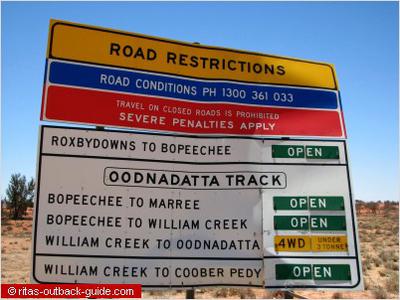 Sign at Borefield Road

I'm not ashamed to admit that I am a novice when it comes to tackling the Outback roads (between Port Augusta / Alice Springs and Uluru), but I am a responsible novice !

I will be as prepared as I can be - water, spares, extra fuel, a second spare tyre - the list goes on (as per your great blog) - everything I need (and can afford), within reason.

And I need to disclose that I am not mechanically-minded (apart from the usual tyre & battery changes).

But if I had to divert off the sealed road (without altering tyre pressure, etc.) for a few km or so ... to see this and that / to camp overnight / to get a better view, etc., just how do I identify my and the vehicle's limitations, the potential risks and minimise the chances of being stuck, etc. - in an AWD Ford Territory ?

Obviously, if the terrain 'looks like 4x4 terrain' - that is best avoided.

So, what 'looks like AWD terrain' as opposed to '4x4 terrain' ?

If I undertook this trip in January, would your advice be any different were I to undertake the trip in July / August?

Cheers
Paul


Rita's Reply
Hi Paul,
My compliments for being a responsible Outback novice, but don't worry too much.
Most detours off the
Stuart Highway
are suitable for an AWD, even for 2WD vehicles in dry conditions. When the roads are wet conditions turn to 4WD terrain quickly. So you hardly can draw a line and say this is AWD and this is 4WD terrain.
Technically, I don't even know the difference between an all-wheel drive and a four-wheel drive. We hardly needed to use the 4WD mode on the tracks and routes I describe here in the Outback guide. But it was the higher ground clearance that was handy at creek crossings and in rocky terrain, like in the Flinders Ranges.
The good thing is you can rely on the signs (like the one pictured above) that tell you about restrictions. You will find them at the entrance of major side roads and tracks.
An unsealed road has barely the same surface from the beginning to the end. It changes from rocky, stony, sandy to corrugated. But you can manage the challenge if you drive slowly, and expect the changes. The more you drive on unsealed roads the better you get to know your car, how it reacts, and you learn how to handle it.
Talk with other travellers, seek advice and you'll be fine. Read this report from another reader who just returned from the
first Outback trip
.
As for the time to go, January would be too hot for me. It is not the time I would suggest for a first Outback trip. There a certainly less travellers around, so you have to wait longer if you get in trouble and need help.
Rita