Beehive Corner & Haigh's chocolates
This beautiful building in a Gothic Revival style is rich with history. It was built in 1895 at the corner of King William Street and Rundle Street. These days it marks the beginning of the mall.

Haigh's chocolates is well-known for excellent chocolates in Australia. The Haigh family has been selling fine chocolates in Beehive Corner since 1915.

Due to Australia's climate you can't buy Haigh's Chocolates through the internet. So watch out to get a sample of these delicious sweets in their 6 stores around Adelaide. There are a few stores in Melbourne, and one in Sydney as well.
Adelaide Arcade
This is one of my favourite buldings in Rundle Mall.
Adelaide Arcade was built in 1885. It was quite a modern building at that time. The arcade was the first retail building with electric lights.
Adelaide Arcade started with 50 shops on the ground floor. Each shop had a workroom on the first floor, connected with an inside staircase.

Over the years, many changes happened to the interior design. In 1968 a walkway on the first level was built, which doubled the number of shops.

In 1980, the arcade was badly damaged by a fire. It was closed for one week, and renovated for about 2 million dollars. Nevertheless, strolling through the arcade gives you the feeling of its glorious past. rundle mall fountain

And of course, like nearly all old buildings, Adelaide Arcade is said to be haunted. The Arcade's caretaker died in a terrible accident in the early 1900s. I don't give you the details, it was really a nasty dead for the poor guy. Reports of strange phenomena have been delivered since then.

Enjoy this magnificent building, more than 100 shops of all categories, and relax in a cafe to take in the atmosphere. The entrance to the arcade is at the fountain in Rundle Mall. You can walk through the arcade to Grenfell Street.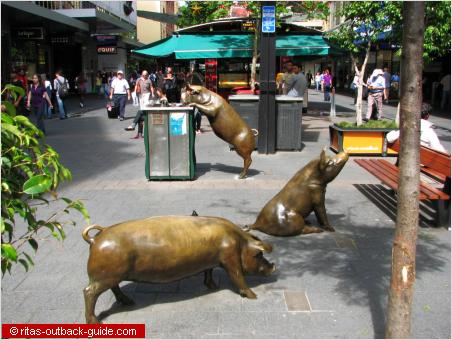 Art in the mall
"A Day Out" is the title of the bronze pigs by Marguerite Derricourt.
Of course the pigs had to be named, suggestions came from the public. The pig's names are: Truffles, Oliver, Horatio and Augusta. Hmmm, somehow I missed one on the photo.

The other sculpture is officially called "Spheres" by Bert Flugelman.
However, amongst the locals the shiny silver balls are known as the "Mall's Balls" or the "Silver Balls".
Each ball is 2.15 m in diameter, they are made from polished stainless steel.
On a sunny day you'll see the blue sky and the buildings reflected in the spheres.

This is just a short overview about the things you can do and see in Rundle Mall. As I said before, the mall is not only about shopping. :)