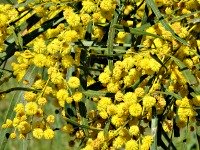 Advance Australia Fair
Australia's national anthem
---
Advance Australia Fair is Australia's official national anthem since 1984.

Peter Dodds McCormick, a Scot, composed "Advance Australia Fair", the song was first performed in Sydney on Saint Andrew's Day, 1878.

Since the proclamation of the Australian colonies in 1788 "God save the Queen" had been Australia's national anthem. However, after the declaration of the Commonwealth of Australia in 1901, many Australians felt they should have their own Australian national anthem. After all, the new country longed for its own "Australia culture".

The process of finding the right anthem took more than 80 years, and needed several polls and competitions, but finally a conclusion was found. A few words and phrases from the original song Advance Australia Fair were changed to meet with political correctness, and make it the anthem of all Australians.
National Anthem Lyrics
Australians all let us rejoice, For we are young and free;
We've golden soil and wealth for toil, Our home is girt by sea;
Our land abounds in Nature's gifts, Of beauty rich and rare;
In history's page, let every stage Advance Australia fair!
In joyful strains then let us sing, "Advance Australia fair!"


Beneath our radiant southern Cross, We'll toil with hearts and hands;
To make this Commonwealth of ours, Renowned of all the lands;
For those who've come across the seas, We've boundless plains to share;
With courage let us all combine, To advance Australia fair.
In joyful strains then let us sing, "Advance Australia fair!"
Listen to the Australian national anthem - click below.
Capital Cities
Accommodation
Special Interests
Rent A Campervan
Check out these page for more Australian Facts and Stories
Do you like this page? Your friends might enjoy it too. Please share it, thank you.
Copyright © 2007- Rita Amend.
ALL RIGHTS RESERVED