Oodnadatta Track Travel Tips

Where to stay & get supplies
---
The Oodnadatta Track Travel Tips section provides you with useful information to plan and enjoy your trip along the historic track.
No need to worry about food and drinks... isn't it good to know where you can get a warm meal, or a cold beer, when you arrive at your destination?

A tour along the Oodnadatta Track is a great experience. If you don't like camping, you can always stay in a cabin, or an old-fashioned hotel. Enjoy the Outback hospitality!



Don't forget, the Oodnadatta track is a remote area, be well-prepared & carry plenty of water. There is no mobile phone reception out there, you need to wait for other travellers passing by when you're in trouble, or carry a sat-phone or a radio.

Facilities along the Oodnadatta Track
Towns and places listed here start from the eastern, or southern end of the track.
Marree
The tiny town at the beginning of two famous Outback tracks is truly an attraction. Stay at least one night and explore Marree's unique history as a railway town on the legendary Ghan line.
Marree Hotel (Ph: 08 8675 8344) is located at Railway Tce South. The grand old hotel offers single and double rooms (with shared bathroom facilities), as well as counter & dining room meals.
The bar room is the place for a cold beer and a chat with the locals. Enjoy unique Outback hospitality in this historic hotel.

Recent additions include modern cabins with ensuite rooms & a free camping area (gold coin donation to use shower and toilets).


Oasis Caravan Park (Ph: 08 8675 8352), Railway Tce South - This park is in the middle of town, has some grassy camp sites and shade to offer. They also have cabins with private facilities and air-condition. There is a camp kitchen and a "BBQ garden"  where guests and locals share some gossip around the camp fire at night.


Marree Outback Store, Oasis Cafe & Roadhouse (Ph: 08 8675 8360), Railway Tce North. The Oasis Cafe offers breakfast, take-away meals and dinner.
The shop has everything travellers might need in this remote area, including a bottle shop, bakery, post office, EFTPOS & ATM facilities.
The roadhouse has unleaded fuel, diesel & AVGAS, car repairs & tyres.


Drovers Run Caravan Park (ph: 08 8675 8644), 600m south of Marree on the corner of the Birdsville & Oodnadatta Track. The park offers the typical camping facilities, basic and self-contained cabins.


Scenic flights to Lake Eyre are operated from the roadhouse and the hotel.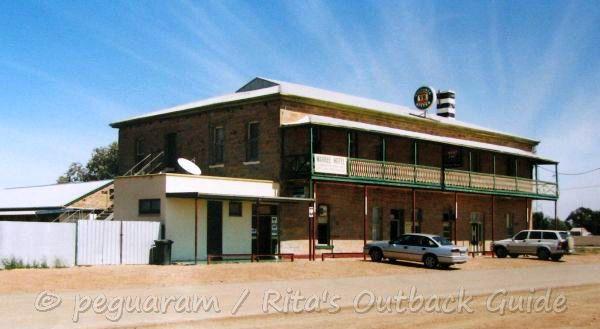 Historic Marree Hotel
Coward Springs

The former Ghan railway station is now an oasis for travellers and a welcome stop when you travel along the Oodnadatta Track.
Coward Springs (Ph: 08 8675 8336) has a basic campground in a beautiful vicinity. Camp sites are sheltered by old trees, each site has their own fire place (bring your own wood).


Pit toilets and hot showers are available. Wood for the showers is provided, but visitors need to feed the donkey for hot water.


Relax in the unique spa, the water comes from a artesian bore.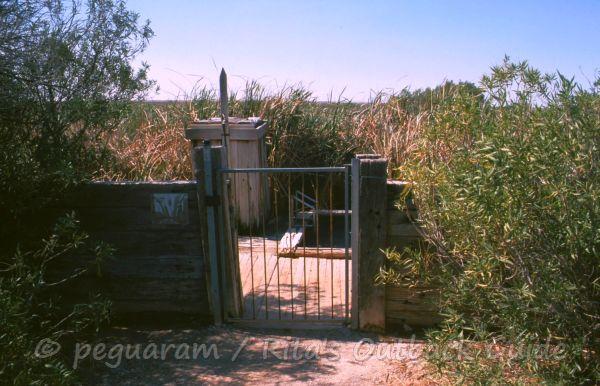 Doesn't the spa look inviting?
The wetlands at Coward Springs are a heaven for birds, and other wildlife.

---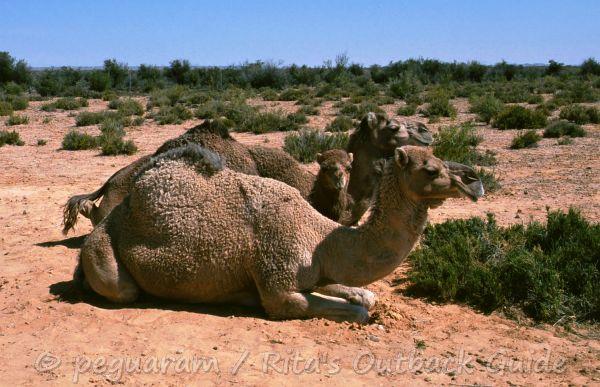 Camels at Coward Springs
William Creek
It is a remote place with all services you need out there.When you feel like it, you can even play a round of golf!

William Creek Hotel, Ph: 08 8670 7880 - The hotel & pub offers meals, take-away liquor & rooms with shared facilities.
The pub is a wonderful place to enjoy a cool drink after an hot and dusty day on the tracks.


Camp ground with shower blocks, and cabins. When I stayed there in 2001 there was not much shade, however, many small trees were planted that might provide some shade by now.


Minor mechanical repairs and fuel.


Wrights Air offers scenic flights Lake Eyre & the painted desert.


Dawn at William Creek caravan park
Oodnadatta

The Pink Roadhouse, Ph: 08 8670 7822 has fuel, meals, a typical Outback mini market, and a campground with cabins. Facilities are basic, but you get everything you need. The Oodnaburger are legendary.
That's my only disappointment about the place, the kitchen was closed when I stayed there.

Transcontinental Hotel, Oh: 08 8670 7804 - The pub offers air-conditioned rooms and hearty meals.
Oodnadatta General Store a mini-market that also offers fuel, hardware, and take-away meals. (I am not sure if the general store is still open, let me know if you have any updates, thanks).


The famous pink roadhouse
Transcontinental Hotel, Oh: 08 8670 7804 - The pub offers air-conditioned rooms and hearty meals.


Oodnadatta General Store a mini-market that also offers fuel, hardware, and take-away meals. (I am not sure if the general store is still open, let me know if you have any updates, thanks).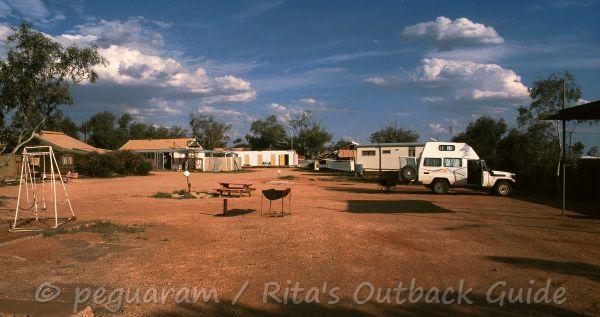 The rustic campground next to the Pink Roadhouse
Marla
The small town at the junction of the Oodnadatta Track and the Stuart Highway was built in 1980 to serve travellers on the Stuart Highway.

The large roadhouse called Marla's Traveller's Rest is a busy place. It offers motel facilities, a caravan park and camping area, backpacker facilities, a restaurant & take-away, post and banking facilities and, of course, fuel.

Emergency Services along the Oodnadatta Track
There are small hospitals staffed with an experienced nurse in Oodnadatta & Marree.
Both towns also have a local police officer.
---
Oodnadatta Track -> the route step by step
Don't miss the articles below which give you many more details about the route.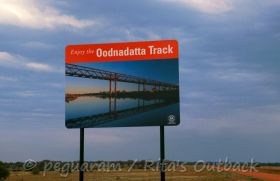 Oodnadatta Track - Main Entry
Get general facts, an introduction and overview of the track (617 km)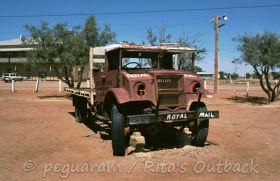 Marree - The start of the track
Discover the history of the early days in this fascinating town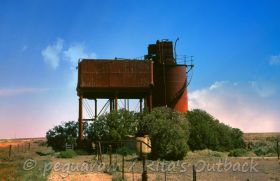 Marree to William Creek
The first section of the Oodnadatta Track is in my opinion the most diverse part of the track (204 km)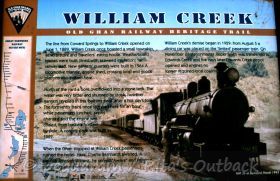 William Creek
This small town offers everything a traveller needs. You'll be surprised what you'll find in this tiny village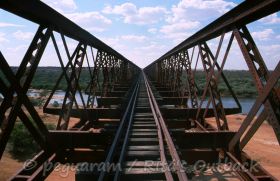 William Creek to Oodnadatta
See more relics of the Old Ghan, including the huge Algebuckina railway bridge (202 km)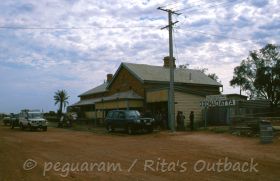 Oodnadatta to Marla
First discover the township Oodnadatta, before you go on the last leg of the track (211 km)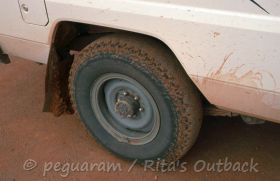 Road conditions along the route
Don't miss to read this page, it also includes useful tips by Outback Guide readers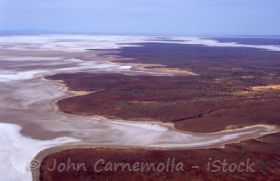 Lake Eyre
Read about Australia's largest lake which only fills every couple of years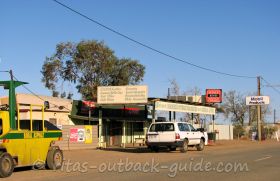 Where to stay
Find camp spots, where to get fuel, a good meal, and a cold beer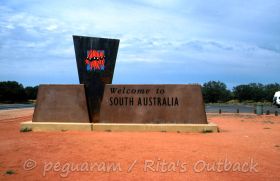 South Australian Outback
Outback South Australia is a wonderful place to explore, don't miss it

Enjoy this most interesting (and my favourite) track in the South Australian Outback.
Below you'll find more useful articles to help you plan your journey.
Where to stay along the track
Where to stay along the Oodnadatta Track