Road Conditions Oodnadatta Track

What you should know before you go
---
What are the road conditions on the Oodnadatta Track?
Is it easy to travel out there?
Which car do I need?
Can I tow a caravan?
Can I use a conventional car?
These are the kind of questions readers ask again and again. I asked the same before my first Outback trip. And this is a good thing! It prevents people from getting in troubles out there.

However, it is not easy to answer these questions, because I don't know the weather and road conditions when you travel, and I don't know how experienced you are with your car when the road is rough.


It is essential to check road conditions before you start on any track in the Australian Outback.
---
Although the Oodnadatta Track is one of the easier Outback drives, you can get problems if you don't know what to expect. Road conditions can change quickly. While it is usually a well maintained dirt road, the track can turn into a quagmire after rain. Always expect a delay when the wet road is closed for a day, or two.

The track is definitely suitable for All-wheel drive SUVs and of course 4WD vehicles, which allow you to take a rough side track to additional attractions as well. 4WDs much more convenient, they have better ground clearance, often mud flaps that somewhat prevent the banging of stones underneath your car.
With a 4WD / AWD you are also better prepared if an unpredicted rain shower comes down.

Of course, you will also see conventional cars on the track, even campervans & caravans. However, with the various creek crossings along the track good ground clearance is essential. A fancy car with front spoilers and lowered chassis is not of much use out there! Towing a normal caravan certainly will ruin it on the stony and sometimes corrugated track.

Having said all that, below you can read some of the FAQ questions, with answers from other readers as well.
That's why I also say, talk with fellow travellers, ask at roadhouses, and even at the pub, to get up-to-date info.
It is important to drive according to the conditions. Don't speed. Always expect a change in the road surface.
Washouts, sandy sections, potholes and corrugations appear without warning.

Get the latest updates about road conditions from Outback Roads South Australia website, or call 1300 361 033.


Frequently asked questions
I've collected some questions and wisdom submitted by Outback Guide readers. There are really good tips!


Oodnadatta Track suitable for a 25ft caravan?
by Kevin & Jan
We are planning a trip to Darwin mid 2010 and would dearly love to travel the Oodnadatta track.
Presuming weather conditions are OK, would the road surface be suitable for a 4WD towing a 25ft caravan?
Thank you in anticipation of your reply. Kevin & Jan
25 ft caravan not recommended
by: Rita
Perhaps it is possible to manage the Oodnadatta Track with a 25 ft caravan, but I doubt it & wouldn't recommend it. Sorry to disappoint you.
Although the Oodnadatta Track is a good Outback road in most parts, it certainly would take its toll on your van.
The road surface is corrugated in places, and there are lots of loose stones and gibber. A common caravan doesn't have the under body protection, strong tyres and heavy duty suspension needed to handle such a road.
Another problem is the ground clearance. There are quite a few creek crossings on the Oodnadatta Track, and even if you cross them slowly, you could hit the ground and get stuck with such a large van.

Whatever you tow, you'll need to protect the rear window of the towing car, and the front window of the trailer/campervan (if there is one).
Also, fix everything inside the van, cupboard doors, drawers, otherwise you'll have a mess after a day on a bumpy road. Also, make sure that your fuel and water tanks are protected (if they are underneath the car) against the stones.

Take essential tools to fix anything that might go loose during the day, and check the caravan closely each night. Carry at least one spare tyre for the towing vehicle and the van. Two tyres for each vehicle would be even better.
Don't forget, it is a long way for any towing service if you break down.

The Oodnadatta Track is one of my favourite Outback routes. The old railway sidings, the history and the landscapes are beautiful. There are many highlights along the track. It is really worth to do the trip.

Maybe you can rent an off-road camper trailer for your trip? That would be the best thing for an enjoyable journey without too many worries.
Rita
Oodnadatta Track
by: Kevin & Jan
Hi Rita,
We just wanted to thank you for for your response to our question regarding towing our 25ft van on the Oodnadatta Track. We are most grateful for your comments and have decided to heed your advice. Thank you again.
Kevin & Jan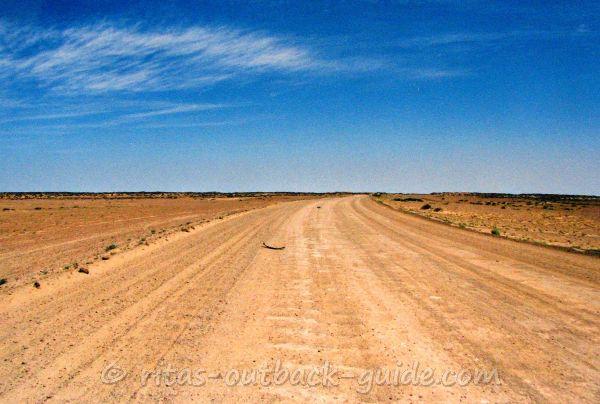 A corrugated section along the track
Caravans on the Oodnadatta track
Here's another opinion about towing a large caravan on the track.

Caravans on the Oodnadatta track
by: Mike (WAX) W
I have traversed the Oodnadatta track 2 times and I own a Jayco Poptop. Unless you plan to take a year to do it, or your planning to get a new caravan after your trip, I would leave the van behind.

It is a very long track, it has water crossings, wet or dry, every 5-10 km or so, so you are constantly slowing down and than accelerating away. (If you carry to much speed through a wash out you are likely to cause damage. Unwise out here).

Furthermore, there are no services between towns and if you experience rain, a towing vehicle will go nowhere on the unsealed surface.
People who travel the outback ignorant or unprepared cause immense inconvenience to those that have to rescue them. Take a look at the book that came with your van. It says nothing about taking your van on 4wd tracks.

Road Conditions Oodnadatta Track
After some advise, like everyone else :)
by: Jamie
Hi Rita,
We're planning to do the Oodnadatta Track in about 3 weeks. we'll be towing a Jayco Outback Eagle, another party will have a Goldstream 'offroad' and I'm not sure what the 3rd member of the party will have, a small caravan I believe.
We're planning to take 2-3 days from Marla to Marree. Your thoughts would be appreciated as to whether it will be suitable.
I've talked to various people and everyone gives me a different answer.
Cheers, Jamie
Off road trailer/campervan
by: Rita
Hi Jamie,
although I am not an expert on the different kinds of trailer, campervans etc, I'd say every vehicle designed for off-road use can be towed on the Oodnadatta Track when the conditions are good.
As you said, ask 10 people, and you'll get 20 opinions. When you have some experience towing your caravans on rough roads, you should be fine.
Ask about road conditions on the track in Marla. Look around the caravan park and ask people with similar vehicles about their experience on the track.
Have fun.
by: Jamie
Hi All,
Just back from our marathon shake down trip. Did the Oodnadatta Track last week and found it to be in quite good condition.
We did the section from Marla to Oodnadatta first and one of our group in a Prado blew a tyre in the first 50 km's, we had dropped pressure when we first got on the track, but this section is very rocky.
The rest of the drive was not challenging at all and could easily be done with a standard car. In fact we saw a couple of standard vehicles at Oodnadatta campground with on-road caravans.
Thanks for the feedback
by: Rita
Hi Jamie,
Good to get your feedback. So you had no problems with the caravans? What's your opinion about towing a 25 ft caravan, now that you done the trip?
Towing a big van
by: Jamie
Hi Rita,
I don't think I'd like to tow a 25ft van on the section between Marla and Oodnadatta because of the rocky conditions experienced and a couple of sections were chopped up after the rains the fortnight before.
I'd also be considering the ability of a van that size getting through the number of river crossings all along the track, while most were dry when we went through, they can be quite steep and I would be concerned with the van grounding and possible damage. A shorter van, no probs.
Cheers, Jamie

Speed along the track
by: Dickyboy
I did the Oodnadatta Track on a group tour, with a driver in 2008 (I'm doing the Oodnadatta Track myself next year). One thing that I did pick up on when driving out there, is that it needs to be done at some speed, to sort of skim over the corrugations. This causes a lot of vibration. I was surprised how fast the driver had to drive to give us a reasonably comfortable ride.
I'm just wondering if lighter weight caravans would take the hammering they could get out there. I've booked a Toyota 4x4 for that trip, then hired a HiTop for the rest of the trip of around 2.5 months.
Speed on Outback roads
by: Rita
Hi Dickyboy,
yes, finding the right speed is the secret for a comfortable ride over the corrugations.
However, you should not only think about comfort, don't forget safety as well. When a car "flies" on top of the corrugations your tyres don't have much contact. A sudden obstacle like a big hole, a wet section in the track, or the loose piles of gravel on the edge of the road endanger your control over the car.

I have read this more than once that the Oodnadatta Track is notorious for car rollovers, because it is a good road most of the time, and people tend to get careless. Even if it is possible to drive 80 km/h, do never attempt to cross a grid or a creek crossing at that speed. It could ruin your car.
Vibrations and noise from rattling stones are bad when you drive these roads in a 2WD, but I really don't notice them so much in a 4WD. Perhaps I just don't remember, lol.
It is useful to store everything fixed in the car, especially the beer :). Keep food in containers or plastic bags, it gets very dusty inside the car.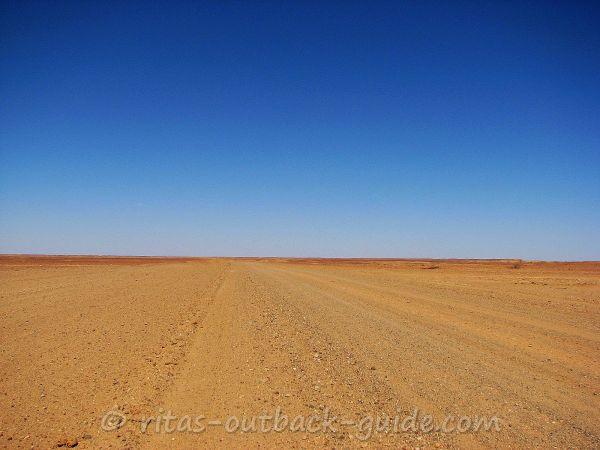 Oodnadatta Track between Bopeechee & Marree
Travelling from Marree to Williams Creek to Coober Pedy
by: Jodi
From Marree to Williams Creek to Coober Pedy, what are the road conditions? I only have an ordinary caravan not an off road, is the road corrugated?
Would it be safe enough for me to drive? What is the distance and how long would it take for me to drive from Marree to Coober Pedy?
Thank You.
by: Rita
As I don't know about the size of your caravan, the time of your intended trip and if you already have experience towing on unsealed roads, I cannot give you an answer.
I repeat myself, it all depends on the conditions on the day you will drive out there.
Rita
Oodnadatta Track -> the route step by step
Don't miss the articles below which give you many more details about the route.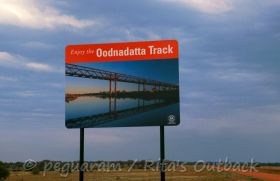 Oodnadatta Track - Main Entry
Get general facts, an introduction and overview of the track (617 km)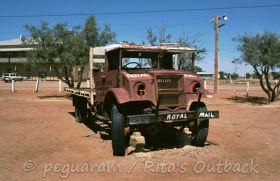 Marree - The start of the track
Discover the history of the early days in this fascinating town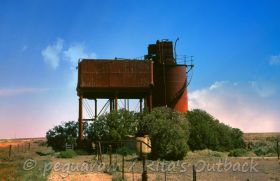 Marree to William Creek
The first section of the Oodnadatta Track is in my opinion the most diverse part of the track (204 km)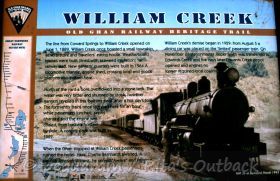 William Creek
This small town offers everything a traveller needs. You'll be surprised what you'll find in this tiny village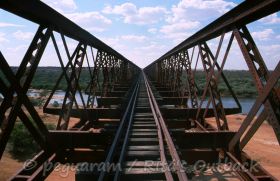 William Creek to Oodnadatta
See more relics of the Old Ghan, including the huge Algebuckina railway bridge (202 km)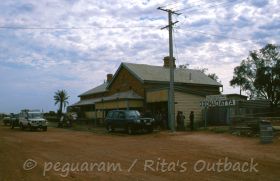 Oodnadatta to Marla
First discover the township Oodnadatta, before you go on the last leg of the track (211 km)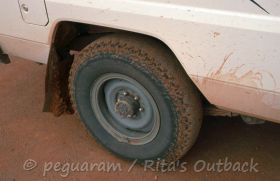 Road conditions along the route
Don't miss to read this page, it also includes useful tips by Outback Guide readers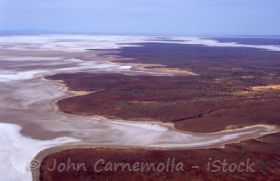 Lake Eyre
Read about Australia's largest lake which only fills every couple of years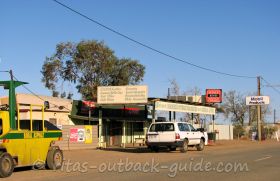 Where to stay
Find camp spots, where to get fuel, a good meal, and a cold beer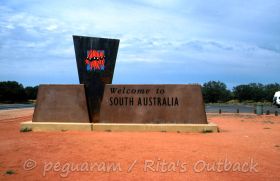 South Australian Outback
Outback South Australia is a wonderful place to explore, don't miss it

Enjoy this most interesting (and my favourite) track in the South Australian Outback.
Below you'll find articles to help you plan your journey.