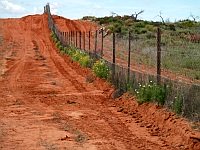 Birdsville Track Travel Tips
Where to stay & eat along the Birdsville Track
---
The Birdsville Track Travel Tips section provides you with information to plan and enjoy your trip along the famous track.
The 517km route between Marree and Birdsville takes you to remote Outback country, travellers need to be fairly self-sufficient on this trip.

A few bush campsites and the Mungerannie roadhouse is what you find along the way. So make sure you stock up with water and your favourite food before you leave Birdsville or Marree.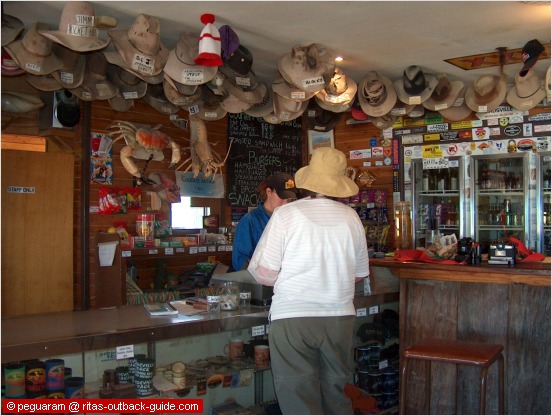 Capital Cities
Accommodation
Special Interests
Rent A Campervan
Facilities along the Birdsville Track
Places listed start at the southern end of the track.
Marree has a roadhouse, hotel & a caravan park. More details on the Oodnadatta Track travel tips page.
Clayton Station Campsite is about 53km north of Marree. Shady trees, toilet/shower facilties, wood fire BBQ (bring your own wood) and even an artesian spa wait for campers.
Clayton's latest addition are 2 luxury self-contained units with 2 bedrooms each. Clayton also offers a 5 day trail ride adventure on their working cattle station.
Phone: 08 8675 8311
Coolibah Camp at Dulkaninna Station is about 83km from Marree. Facilities include shower/toilet and a camp kitchen
Phone: Daryl Bell 08 8675 8307
Official campsite at Cooper Creek with toilet & drinking water. Camping is permitted within 1km of the toilet.
Well, there are certainly more spots that invite to camp within the wide bed of Copper Creek. However, be sure you have updated weather reports as water could surprise you at night! Be careful.
Mungerannie Roadhouse is 202km north of Marree. The roadhouse has an unique, inviting bush pub that serves warm meals and ice cold beer. Of course, you also can get other cold beverages here :). Unleaded fuel & diesel available, as well as minor car repairs and tyres.

Jeez, we really had to use their service after a tyre blew off on the track! It is a scary feeling to drive on the stony Birdsville Track knowing that you don't have a spare tyre anymore. But that's adventure!

Mungerannie has basic cabin style accommodation with shared bathrooms. The best way to spend the night is on the campground which is close to a permanent waterhole fed by an artesian bore, proudly called the Derwent River. It is hard to believe to see the water, bushes, and the rich bird life after you came along the dusty track.
Ph: 08 8675 8317
Tippipila Bush Camp is about 134km north of Munerannie. A toilet and a basin with bore water, that's it. Only 180 km to go to Birdsville!
Advertisement

Finally you arrive in Birdsville
The little town just across the border in Queensland offers everything travellers need on their long trip into the Outback.
The Birdsville Caravan Park, 1 Florence Street, has a wide area for campers & caravanners to stay in a lovely spot next to the billabong. There are also serviced units and deluxe cabins to rent. Relax at their coffee shop after a hard day exploring the town. Ph: 07 4656 3214
The famous Birdsville Hotel Ph: 07 4656 3244, Adelaide Street, no visit to the town is complete without having at least a drink in the famous old pub. The hotel offers motel-style accommodation at the back. Lunch and dinner are served in the "Green Lizard Bar" every day.
The Big Red Cafe in the Blue Poles gallery offers mouth watering meals and snacks every day. The Cafe is open from 9 am.
You won't miss the Birdsville bakery with the huge letters on its tin roof. Fresh bread, pies and other goodies, as well as pizza & pastas in the evening are available.
Wirrarri Information Centre Ph: 07-4656 3300, Burt Street, has a library and internet cafe. Here you get the latest road conditions and general tourism info.
Other services include a small clinic, 2 fuel stations and car repair service, post office
During the first weekend in September the town explodes from usually 100 to 5000 people. The
Birdsville races
make this possible. Read more about this famous bush event below. Neither the hotel nor the caravan park take reservations for this busy weekend.
Here is more info to plan your trip!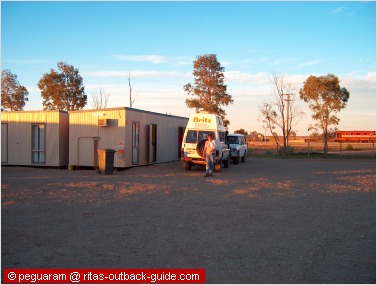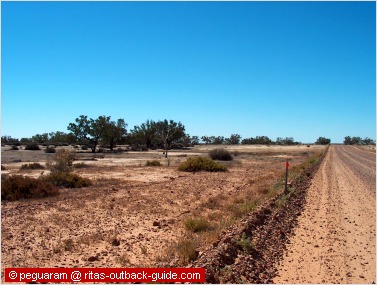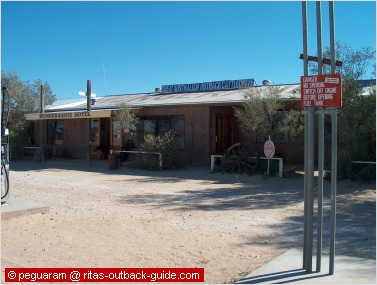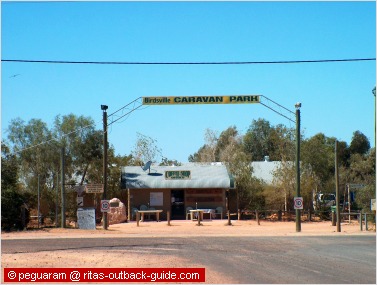 Partner Link

Check the following pages for detailed Outback travel tips
Do you like this page? Your friends might enjoy it too. Please share it, thank you.
Copyright © 2007- Rita Amend.
ALL RIGHTS RESERVED