Mount Ive Station
Sheep shearing, 4 wheel drive adventures, stunning nature
---
Mount Ive Station is a 900 km² sheep property in the heart of the Gawler Ranges in South Australia.
The station was established 1862. Joy and Len Newton own and operate the station since 2002. They welcome travellers to stay on their property, to explore the unique landscapes with ancient rhyolite columns and to see the stunning views over Lake Gairdner.
Actually, Mount Ive Station provides the only public access to this large glistening salt lake that forms the northern boundary of the property.



Explore the beautiful scenery along more or less challenging station tracks, watch wildlife and birds, or join the station staff on their daily work.
If you are lucky, you can even see shearers in action. Real shearers I mean, not a demonstration for tourists. Anyway, you'll notice on your arrival at Mount Ive that your stay is going to be a special Australian Outback experience.

Highlights of Mount Ive Station
Exploring real station life, fantastic Outback scenery , 4WD tracks, fantastic photo opportunities... there are many attractions to keep visitors happy.
A tour to Lake Gairdner, which is about 35 km north from the homestead & camp area, is definitely a highlight during your stay at Mount Ive. Click here to read a full article about this salt lake, and enjoy the photos I took during my visit.


Lake Gairdner with shallow water on the surface

The Flight Path, Billy Can Drive and Mt. Scott, these old mustering tracks on the station are moderate to challenging 4 wheel drive tracks. Your car should have high clearance.
You'll receive mud maps and tips to get the most out of these tours. Please take plenty of water with you. Drive carefully. Even if a track seems to be easy going, this can change around the corner. Always expect obstacles like stones, wildlife or station animals, rough gutters and grids on the tracks.
Take your time, have a picnic and enjoy the beautiful scenery at Mount Ive Station.


Horse Well
Peter's Pillar

Cath's Castles and Peter's Pillars are two beautiful examples of the exposed rhyolite that can be found in the Gawler Ranges. These ancient formations are fascinating.
Short walks are involved to reach these stunning sights. Wear sturdy shoes, and always take some water with you when you go on a walk. Watch out for lizards, they love basking in the sun in this stony terrain.
Another "stony" highlight is The Embankment, an historic stone wall built in the late 19th century to catch water.


Wombat Holes

Wombat Holes - A few kilometres west of the station homestead is an area that looks a bit like yellow sand stone cliffs along the coastline. There are many holes in the ground, dug by wombats.
The southern hairy nosed wombat inhabits the Eyre Peninsula and the coast lines into Western Australia. This wombat digs large burrows into the limestone ground.
Unfortunately, we didn't have much time to stay there and waiting for wombats to appear. Dark clouds and an approaching thunderstorm were chasing us back to our camp at Mt. Ive station. We didn't want to get stuck on that track (it had lots of clay and bull dust patches) when it turns into a mess during rain.

And boy, it did rain just one hour after our return to the camp!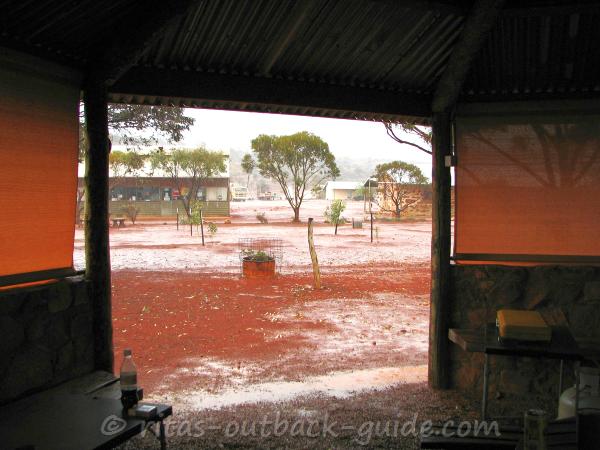 The gazebo offers shelter for campers
Sheep Shearing
We were lucky to arrive at Mount Ive Station on the last day of the shearing week.
We were invited to visit the shearing shed to watch the shearers in action. Boy, this is really a hard job!

Shearing time is usually in spring. Shearing teams travel around the country from property to property to do their job. They stay on the station for a week or two, depending on the number of sheep that need to be shorn.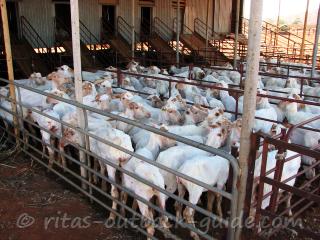 Freshly shorn sheep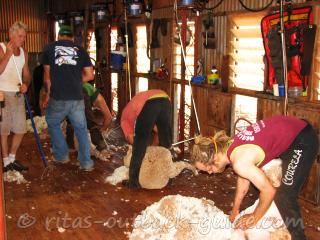 Sheep shearing is hard work

Shearers have always been icons of Australian folklore and literature since the early days of white settlement. Although the numbers of sheep in Australia decline, the country is still the largest wool producer and exporter in the world.
Facilities at Mount Ive Station
Mt. Ive facilities vary from camping to convenient rooms in the stone hut.


Our camp at Mount Ive

The spacious campground has powered and unpowered sites, no booking required.
The campground might be very busy when the Dry Lakes Racers have their annual race week at Lake Gairdner. This is usually at the end of summer in March.
Toilets and hot showers are located in the shearers quarters building, and there is a kitchen and community room as well.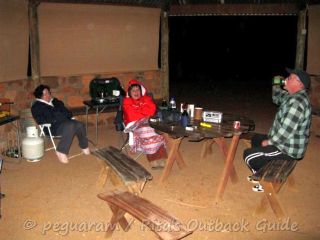 A cold and windy night
Coffee is ready soon

We put up our camp next to the gazebo which turned out to be very handy. The gazebo offers shelter on hot days and protects you when the nights are cool and windy. One night it really poured down, so the gazebo was a great place for dinner.

Station staff stopped for a chat when we sat there at night. Chats with the locals are always a great way to get useful information and listen to a good yarn.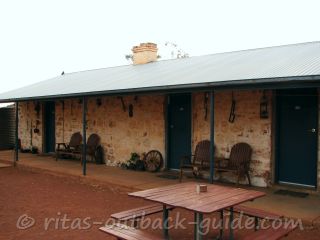 Stone Hut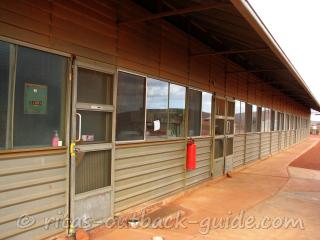 Shearer's quarter & shower block

The stone hut offers 3 rooms with made beds for those who don't like it too rough.
Sleep like the shearers do. The shearers quarters have 19 rooms. You need to bring your own sheets and bedding.
Shearers quarters are not available when the shearers are working on the station.

Both accommodation types use the shared facilities.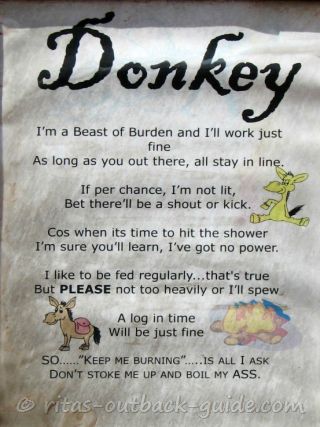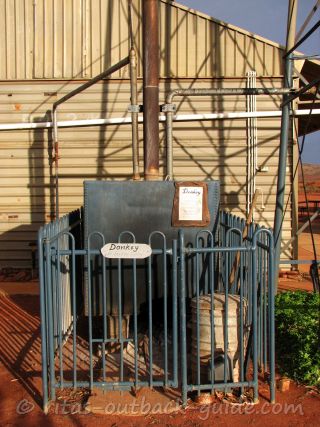 The Donkey - How to make hot water in the Outback


Mount Ive station uses an unique way to provide hot water for travellers - The Donkey. YOU have to help and care for the hot water supply. No worries, it is easy.
Everyone is asked to take care of the donkey. Just check if the "beast of burden" has enough wood to keep it going. Use the supplied wood to feed it. You'll find the donkey in front of the shearers quarters block.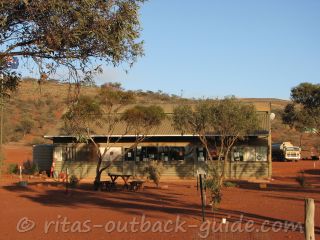 The kiosk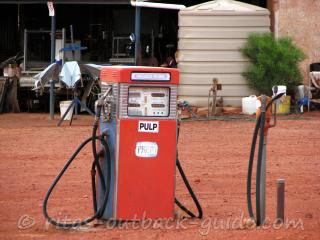 Petrol & Diesel is available at Mt. Ives

The kiosk and liquor shop has cold drinks, water, beer and ice for your esky. The kiosk has some basic items travellers might need, but no fresh food.

I ran out of bread and was lucky to get some frozen bread. However, visitors are asked to bring their own food, or ring the station a week before their arrival and make arrangements for food supplies.
Petrol is available on the station. Ask at the kiosk for the best time to fuel up.
Please notice that neither the kiosk nor the petrol pump are staffed all day. After all, people are busy running a large sheep station at Mt. Ive. Nevertheless, we as visitors felt very welcome on the station.
How to get to Mount Ive?
There are a few access roads from Eyre Highway between Port Augusta and Ceduna.
130 km from Iron Knob via Nonning Rd

136 km from Kimba via Buckleboo Rd

130 km from Minnipa right through the Gawler Ranges National Park
182 km from Wirulla via Hiltaba
Travellers coming from the north exit the Stuart Highway at Glendambo towards Kingoonya. It is 274 km from Glendambo to Mount Ive.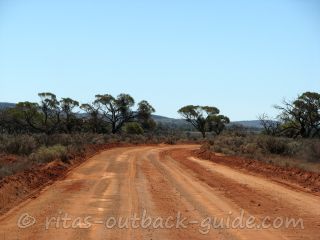 Iron Knob to Mt. Ive road
Entrance Mount Ive station

About 121 km after you left the bitumen at Iron Knob, is the turnoff for Mt. Ive Homestead. You won't miss it! Just turn right at the submarine.

4 km further along the dusty red road you'll pass the homestead, a few sheds, and arrive at the camping area.

Check in at the kiosk. If it is not attended just wait for a minute, someone will come soon. Then you are offered to watch the introductory station video with all the highlight waiting for you.

Enjoy your stay at Mount Ive Station. I know I did!

Discover the secrets of the Gawler Ranges
---
The articles below will help you prepare your journey