Australian photographer Terry Everson is a great contributor to the Outback Guide. Both, his beautiful photos and his informative comments on reader's questions are very much appreciated.

Terry sent me a biography and a map of his travel routes. As you can see, he has driven quite a lot around Australia, and he captured the stunning sceneries on his numerous photos.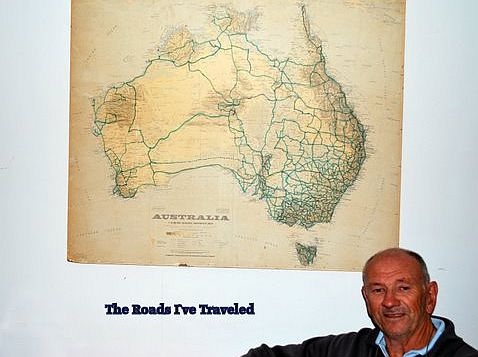 Terry Everson's Biography
My interest in traveling Australia began at an early age when my father was a conductor on the trams in Sydney and when going on holidays was issued a free rail pass for travel anywhere in New South Wales.

We used to always go to the end of the line somewhere and when we were walking home I would say "Where are we going next Dad?"

When Dad finaly bought a car in 1956 we went further afield and went bush every chance we got. Although we didn't even own a tent it didn't stop us from bush camping.

I got my first car in 1964, a Hillman Imp and I remember heading off to Mt Isa three days after I got a licence. Since those days I have driven a million miles throughout the country.

I am a keen photographer and enjoy photographing the landscape. I have been successful in National and International Exhibitions my highest achievment a third prize. I also won a NikonF60 SLR for a photograph I entered into a competition in 'Overlander' a 4WD magazine.

I used to concentrate on slides before entering the digital age. I now have a compact Samsung a Panasonic Lumix FZ18 and a Nikon D60. As I am now a full time carer for my 97 year old Mother I do not get to travel much now but hope to get out bush again one day.

My other interests are Tennis which I play at a competitive level and gardening now I am mainly housebound.

Written by Australian photographer Terry Everson
Terry Everson's Work
Travelling throughout Australia's diverse and stunning landscapes truly is an inspiration for photographers. Many places are connected with fascinating stories from the Aborigines, early explorers or ordinary people who worked and lived on the land.
I always love to learn about these stories.

If you browse through Terry's photo collection, you'll often read a little about the history of the places, or objects, shown in the picture, like this example about the Explorers Cairn.

The links below guide you to the photos Terry has published here on the Outback Guide.

Eringa waterhole is a great camping spot north of the Oodnadatta Track.

The painted Desert the area east of the Stuart Highway is a photographer's paradise.

Cooper Creek will be always connected with the ill-fated expedition of Burke & Wills.

Corner Country Roller Coaster Drive is another beautiful photo and story published by Terry.

The Flinders Ranges, the rugged mountains are beautiful. Photographers like Terry, and painters have been in love with the area for decades.

I hope this introduction to the Australian photographer Terry Everson inspired you to take your camera and explore this wonderful country.
Terry Everson sells his photos at redbubble, a global community for photography, art and design.
Curious? Check out his work.