Home
> Outback Questions & Stories
Eringa Waterhole
by Terry Everson
(Whalan NSW)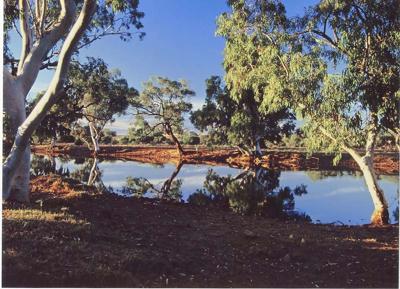 Eringa Waterhole
The Eringa Waterhole is located near the ruined homestead of the same name 188km north of Oodnadatta on the road to Finke.

Although with no facilities it is a delightful bush camp. Lined with majestic white trunked gum trees and a supply of permanent water it is a special place especially in the light of the early morning. If you decide to camp here please don`t leave any rubbish behind.
Disclosure: Some links on this page are affiliate links. This means when you buy a product or book a service through one of these links, I earn a small commission (there is no extra cost for you). This money helps me to maintain this website and provide the free information. When you are interested in a product or tour, you make the booking/purchase on the provider's website. Be sure to read all details before your purchase. Thank you for supporting this website.
Need a map for your Outback Trip?
Hema offers the most comprehensive range of Australian maps and road atlases.
Capital Cities
Accommodation
Special Interests
Rent A Campervan
Check Road Conditions
For websites and phone numbers to get information about the latest road conditions and weather reports

Click Here
Popular pages on the Outback Guide you might enjoy
Do you like this page? Your friends might enjoy it too. Please share it, thank you.
Copyright © 2007- Rita Amend.
ALL RIGHTS RESERVED