Cooper Creek
by Terry Everson
(Whalan NSW)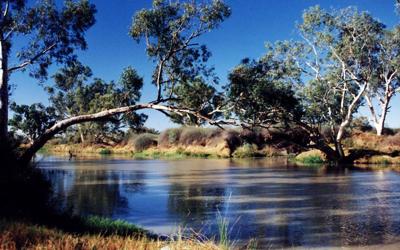 Cooper Creek
Cooper Creek is synonymous with the outback and conjours up visions of the early explorers stumbling upon an oasis.
There are many camping spots along the Cooper, the most notable being at the town common at Innamincka in the north of South Australia.

Innamincka is an oasis in itself being the only supply point for hundreds of kilometers. Here the 'Trading Post' supplies fuel and an array of food supplies and there is a shower and toilet block in the town centre.
The National Parks have a display in the restored Inland Mission building. A Desert Parks Pass can be obtained here if you haven't already purchased one and this comes with lots of information and many maps. It is a necessity for intrepid travellers heading to Coongie Lakes or into the Simpson Desert and other locations outside the town common.

There is lots to do on the Cooper and the surrounding area such as fishing and visiting historic sites such the grave of the ill-fated explorer Burke at Cullymurra Waterhole and of course the famous Dig Tree. You will enjoy your time around the Cooper Creek so much that you will surely want to go back.