Home
> Outback Questions & Stories
Cooper Creek
by Terry Everson
(Whalan NSW)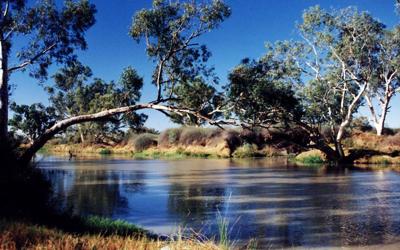 Cooper Creek
Cooper Creek is synonymous with the outback and conjours up visions of the early explorers stumbling upon an oasis.
There are many camping spots along the Cooper, the most notable being at the town common at Innamincka in the north of South Australia.

Innamincka is an oasis in itself being the only supply point for hundreds of kilometers. Here the 'Trading Post' supplies fuel and an array of food supplies and there is a shower and toilet block in the town centre.
The National Parks have a display in the restored Inland Mission building. A Desert Parks Pass can be obtained here if you haven't already purchased one and this comes with lots of information and many maps. It is a necessity for intrepid travellers heading to Coongie Lakes or into the Simpson Desert and other locations outside the town common.

There is lots to do on the Cooper and the surrounding area such as fishing and visiting historic sites such the grave of the ill-fated explorer Burke at Cullymurra Waterhole and of course the famous Dig Tree. You will enjoy your time around the Cooper Creek so much that you will surely want to go back.
Disclosure: Some links on this page are affiliate links. This means when you buy a product or book a service through one of these links, I earn a small commission (there is no extra cost for you). This money helps me to maintain this website and provide the free information. When you are interested in a product or tour, you make the booking/purchase on the provider's website. Be sure to read all details before your purchase. Thank you for supporting this website.
Need a map for your Outback Trip?
Hema offers the most comprehensive range of Australian maps and road atlases.
Capital Cities
Accommodation
Special Interests
Rent A Campervan
Check Road Conditions
For websites and phone numbers to get information about the latest road conditions and weather reports

Click Here
Popular pages on the Outback Guide you might enjoy
Do you like this page? Your friends might enjoy it too. Please share it, thank you.
Copyright © 2007- Rita Amend.
ALL RIGHTS RESERVED