Cycling from Darwin to Adelaide
by Rob
(UK)
Look, I don't want you to think I am real crazy, but my boy and moi have in mind to cycle from Darwin to Adelaide.
I need to know all watering holes and safe resting areas, without crocs, snakes etc.
See you later, Rob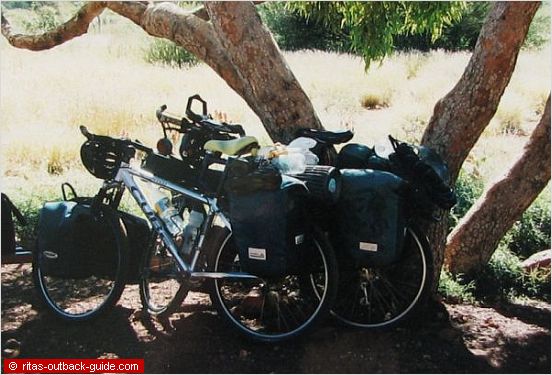 Rita's Reply
Hi Rob,
Thank you for your very interesting question.
First of all, don't worry, I don't think you are crazy, not at all.
I met people who did this, cycling from Darwin to Adelaide, and other bicycle adventures in the Australian Outback. It is possible.
Having said this, I must also warn you. Cycling from Darwin to Adelaide is a huge task, and you need to be very well prepared.
We talk about more than 3000 km, right. And we talk about heat, strong winds, flies, and huge distances between the watering holes.
Have you been to Australia before? I reckon, you have both some physical strength and experience doing large bicycle tours?
What do you think how many km can you manage each day?
How much time do you have for the adventure?
Sorry, that I come with so many questions. However, if you want to do this huge trip from Darwin to Adelaide, and want to succeed, you have to answer yourself these questions.
Don't get me wrong, I really don't want to discourage you, but you have to realise that this is not an easy task.
Hey, I am getting already excited, and I am willing to give you as much advice as possible.
A few general tips:
*
Start the tour in Darwin in winter time, July, or August at the latest. The days in the north will be cooler then, although the nights can be
rather cold in the inland.
*
Crocs... use common sense and ask the locals where you can camp at night. They are only a hazard in the far north along rivers and billabongs in the tidal zone.
*
Snakes... no need to worry about them too much. Aussies love to camp in the bush, and they survive. Only people who try to catch a snake, or doing other stupid things, get in trouble.
*
The only thing
really you need to worry
about is how much water can you carry on your bikes. You'll need lots of water while cycling. You need a good water filtering system so you can use every puddle you'll find along the
way.
Let me know when you start, and don't hesitate to ask more questions.