Stuart Highway with conventional car
by Mandy Kruger
(Enschede, NL)
Is it possible to drive Stuart Highway with a conventional car, like a station wagon, or do I need a 4wd?

I mean it's paved so as long as I don't leave the road I guess there should be no problem, right?

How about for example Daly Waters - I read the road leading up there would for example not be paved?

greeetz
Mandy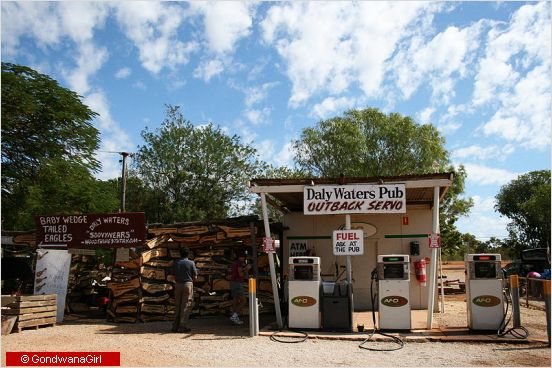 Rita's Reply
Hi Mandy,
you are right, the Stuart Highway is fully paved, or sealed, as Australians often say. You definitely don't need a 4 WD for this highway.
Car rental contracts prohibit to drive on unsealed roads and tracks, but you can drive on an unsealed road for a short distance if it leads to a well-known tourist attraction, or your place of accommodation.
This short road to the Daly Waters Pub is certainly in good condition as it is used by coach tours to visit the famous pub.
Just drive slowly, leave enough room when you follow other cars, and you'll be fine.
There's the Highway Inn on the Stuart Highway just 7 km south of Daly Waters. You can ask for road conditions if you feel unsure. But as long as the road is dry, there shouldn't be any problems.
The
Daly Waters Pub
is an Australian Outback icon, a great place to meet other travellers and interesting Outback folks.
Daly Waters is an area rich in history. John McDouall Stuart named the springs on his successful attempt crossing Australia from the south to north. The springs have been an important source of water in the early days of European exploration, used by drovers and the men who built the Overland Telegraph line.
Are you going to drive the entire Stuart Highway? That's a great adventure. :)
Feel free to use the comments to ask more questions.
Rita