Stuart Highway - Adelaide to Alice Springs
by Anonymous
How desolate is the Stuart Highway?

I'm driving with 2 small children on the Stuart Highway from Adelaide to Alice Springs in July for a holiday and returning on the Ghan. Is the road that desolate that nobody would be there to help in case of an emergency?

Thanks for any info.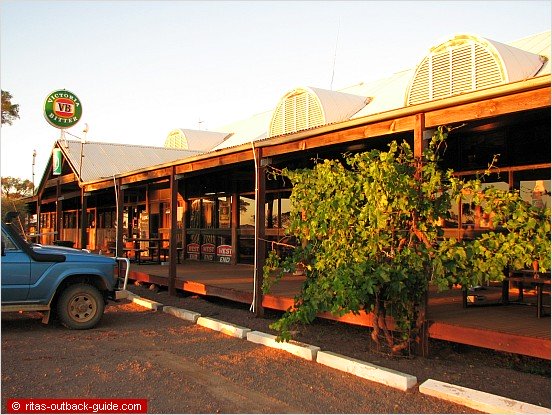 Rita's Reply
Hi there,
although distances between towns and roadhouses along the Stuart Highway are up to 250 km (it's not always that much), I would say the Stuart is definitely not desolated.
By Australian Outback standards it is a road with a lot of traffic.
Of course, the scenery is is true Outback, fairly flat most of the times. But the landscapes are changing every so often, it is not boring.
You really don't need to worry. You won't have to wait long for another car to arrive in case of emergency.
In my opinion, the biggest problem while driving along the Stuart Highway is fatigue. However, I reckon the kids will keep you awake, and they will make you stop quite frequently.
Let me give you an overview about the towns and roadhouses along the way. You'll get fuel, drinks, food and accommodation at these places, along with mechanical assistance if needed.
Port Augusta
- Pimba 172 km
Pimba to Glendambo 113 km - Don't miss the rest area at Lake Hart about 40 km past Pimba. It is one of the salt lakes that are really close to the highway.
Glendambo to
Coober Pedy
252 km - This is the longest part without supplies, so fill up petrol at Glendambo. There are a couple of rest areas along the road, and an emergency phone halfway between.
Coober Pedy to Cadney Homestead 155 km
Cadney Homestead to Marla 84 km
Marla to Kulgera 180 km - Kulgera is already 22 km north of the South Australian/Northern Territory border.
Kulgera to Erldunda 74 km - The Lasseter Highway to Uluru and Yulara turns west from Erldunda.
Erldunda to Stuarts Well 108 km
Stuarts Well to Alice Springs 91 km - and that's it.
All roadhouses along the way have motel-style accommodation and camping facilities. I really liked Erldunda, but Glendambo and Cadney Homestead are also pretty nice.
Of course, Coober Pedy has a good choice of accommodation. Why not sleep underground? This is an unique experience.
Have a wonderful trip.
This is a very useful comment by another Outback Guide reader...
Stuart Hwy In July
by: Amanda
Hi there,
I live in Alice Springs and regularly drive the Stuart Hwy, for both work and holidays.
July is probably the busiest time of year in Central Australia. The highway will be packed with Grey Nomads and other tourists. Should anything befall you (I'm sure it won't) there will be lots of people around to help you. There are emergency phones every so often and there is Telstra Next G mobile reception at Pimba, Coober Pedy, Marla and Erldunda. If you don't have a Next G phone, I recommend getting one.
The road is extremely boring in places - Glendambo to Coober Pedy is my least favourite slice of the journey. I hate this part with a passion. Once you get close to the NT border, the landscape becomes much more interesting to look at. There are low mountain ranges all the way into Alice Springs thereafter (e.g James, Waterhouse).
As Rita has written, there are loads of roadhouses along the way - Cadney is the best. Personally, I find the BIG Glendambo roadhouse too expensive, although it's very clean. The smaller one has more reasonable food.
Marla's outside toilets are often grotty and it will be packed with buses. We avoid stopping at Marla at all. Erldunda Roadhouse is always ridiculously busy because it's the turn off to Uluru - but it's clean and the accommodation is good.
Kulgera is nice and quiet and clean, and so is Stuart's Well (but if you're at Stuart's Well, you've got less than an hour to Alice Springs so you might as well keep going).
I'm not sure how small your children are, but there are a many things to stop and see along the way (like the OUtback Botanical gardens, lookouts, salt lakes, Coober Pedy, the NT/SA border, the dingo fence. I also recommend audiobooks - get something like Harry Potter to keep them captivated (get the ones narrated by Jim Dale). Also there are GEOCACHES all along this road. Geocaching is a fun hide-and-seek treasure hunt played with a GPS. Check it out at www.geocaching.com It's great for kids and long trips.
Hope this is helpful,
enjoy your trip to Central Australia.
Amanda
---
Hi Amanda,
thank you for your comment and great advice.
We saw lots of wedge tailed eagles between Marla and Glendambo, that outweighed the boring stretch of the road. :)
Rita