Windorah to Birdsville
by Jodie
(Toowoomba)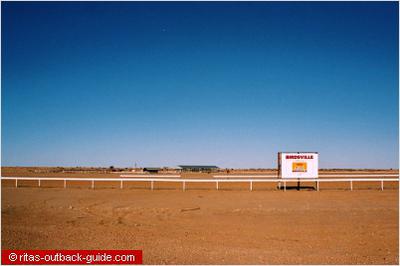 Birdsville Racecourse
Hi Rita

I have spent some time driving 4wd around the channel country and have had numerous trips from Southwest Queensland to Windorah and beyond. Each of these trips have been in a 4wd.

With a longing to attend the Birdsville races in September I would like to head out again.

My question is that as I don't at this point have access to a 4wd. Would it be ridiculous of me to think I would be able to achieve this in a holden crewman?

Regards

Jodie


Response to Windorah to Birdsville
Hi Jodie,
Well, it is very wet out there at the moment (April 2010), so what can I say?
You have been beyond Windorah, and certainly drove on unsealed roads. I am not the car expert. Do you think you could have made your recent trips with your Holden? Is it strong enough to survive dust, and stones and the shaking of an unsealed road?
I drove quite a few Outback roads with a 4 WD and thought afterwards we could have done this in an ordinary car.
The problem often is the ground clearance of normal cars. You rarely need to engage the 4 wheel-drive on these flat roads, but your car needs good ground clearance to prevent damage on rough roads and creek crossings.
The first 110 km out of Windorah are sealed anyway. But then follows the 277 km section of the Birdsville Developmental Road. What the road will be like in September? Nobody knows yet. After all the rain the landscapes will certainly look beautiful, but I am not sure how quick any road damage will be repaired.
For more info check out these pages, the Windorah to Birdsville page has the phone numbers and website link to check road conditions before you go.
Travelling from Windorah QLD to Birdsville
Tips to prepare your car
and what you should take with you.
BTW, the weekend before the Birdsville races is race weekend in Betoota. So it will be busy out there, and you'll certainly get help if you run into troubles with your car.
Have a safe trip, and tell us about your adventures :).
Rita
More information...