Our Lake Eyre Adventure
by Nigel Wheeler
(Meadow Heights, Vic.)
May Day! May Day! May 1 was the beginning of our first real "outback adventure". We had driven to "The Alice" before, thru southern NSW and up to the Gold coast, but never into the real outback.

We left Melbourne and headed west for Adelaide. The weather was good for the time of year, but as soon as we hit the S.A. border, we ran into persistent rain showers which lasted all the way to Adelaide.
We overnighted at a motel in North Adelaide so as to be on the "right side" of town for an early getaway to Coober Pedy. Avoiding the rush hour, we had a smooth run thru to Port Augusta where we had breakfast.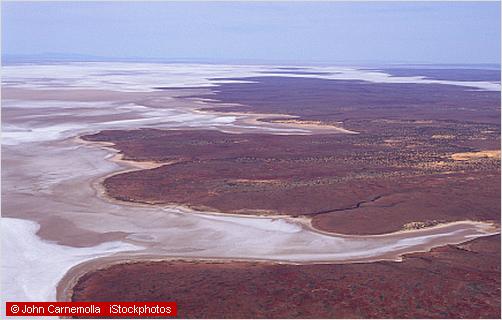 Coober Pedy
, here we come. An uneventful and relaxed trip up the
Stuart Highway
saw us in Coober Pedy just before dusk. A quick walk around town, where we had been 11 yrs previous, saw many changes.
Curb and channeling, street lights and security cameras, and the massive new developments as you enter the town. How things change!! Sadly, some of the "outback charm" we saw previously seems lost, but life has to move on.
Sunday, my birthday. Just after sun rise we were heading for
William Creek
where we were to camp for 3 nights while we did our Lake Eyre adventure. Generally, the road to WC was in excellent condition, a few rough patches here and there but nothing too serious for our 2005 Outlander to worry about.
An excellent run saw us in WC around 10.30am. We spent the rest of our day setting up camp, and discovering the immediate surrounds. The old Ghan rail line and telegraph relics abound. Night fell, and as we watched the sky full of twinkling stars, we roasted chestnuts on our camp stove.
After breakfast on a cool, fresh Monday dawn, with glorious sunrise, we drove a short distance on the Oodnadatta Track and walked in the desert sands.
We could have been a million miles from anywhere!
2pm saw us back at WC in readiness for our flight over
Lake Eyre
. While waiting for our flight a group of horses and riders appeared and stopped at the flight ops. building. Apparently this was part of the preparation for the Outback Muster that happens later in the year.
Eventually, we boarded our flight and headed off for
Lake Eyre
.
At this point, it becomes to difficult to express our amazement at the sights below us, and the growing excitement as we see the first outline of LE on the horizon. We headed up, over the lake to the north where the tributaries come in.
Our 2 hour trip was such an amazing experience that words can't describe the beauty of what we saw. Eventually we touched down, and even though our feet were firmly on the ground, spiritually we were on an amazing high!
To cap it off, as we walked back to our camp site, there was an amazing jet stream high in the sky, and as the 'plane changed course, you could clearly see the small image of the jet.
Tuesday, was our day to drive to Lake Eyre. Another cool, clear day and after a hearty breakfast we were off. Checking in at the NP station, and paying the small fee, yes folks, pay the fee, because it will be the best money you spend for some time.
The sun shone, the sky was clear, and we were away. The road was generally in excellent condition with just a few spots where we were going about 3kph because of the corrugations, and we hit
ABC Bay
in about an hour and a half. We had made it!!
Half an hour later and we headed for
Halligan Bay
. To our great surprise, there are neat, clean modern toilets and sheltered areas to eat. After a visit to the loo, we headed straight for the lake...we can eat later!
We removed our shoes and socks, walked out over the salt laden crusty edge of the lake.
A few more steps, and our feet started to sink into the ooze. A few more steps, and we were
STANDING in Lake Eyre
up to our ankles in the clear salt water. We were paddling in Lake Eyre!!! After half an hour or so, we headed to land, washed our feet and had something to eat.
We wandered back to the lake's edge for a final look, returned to our car, and headed for WC.
We left William Creek Wednesday morning and arrived Port Pirie just on dusk. Our journey home took us via Mt. Gambier, where we o/nighted, and we arrived Melbourne Friday evening in pouring rain.
An amazing adventure to some of the remotest parts of Australia.
In preparation for our trip, we had the car serviced about 2 weeks before we took off, bought a good quality used tyre, just in case we shredded one, so that we still had a "spare", and prepared our "emergency box".
Our "
emergency box
" contains reflective vests, emergency flashing lights, whistles, an axe, assorted tools (spanners, screw drivers etc.), news paper, matches, sharp knife, first aid kit, and nylon rope.
We also carried 25 litres of fresh town water from Coober Pedy, one of our camp stoves, gas cylinders, kettle, tea, coffee etc. and food such as muesli bars, dry biscuits, and nuts.
Fortunately, in our 3976 km round trip, we didn't need to use our emergency resources. But you never know, so always be prepared.