Home
> Outback Questions & Stories
Dawn at the Arckaringa Hills (Painted Desert)
by Jan
(Alice Springs)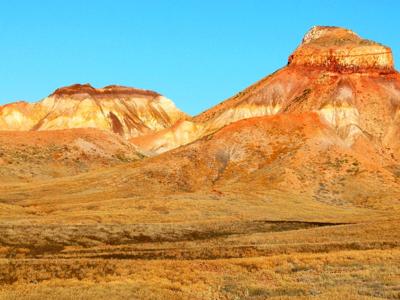 Why it is aka The Painted Desert - beautiful

Early last month I headed off solo on a three week "rellie run" from Alice Springs, first overnight stop, Cadney Park Homestead on the Stuart Highway.

Next morning I woke early and armed with a mud map from a lovely lady at Cadney (and of course my charged up camera and 4-w-d), I took the 250k unsealed roads detour to Coober Pedy in order to see dawn break over the Arckaringa Hills (aka The Painted Desert).

I was within camera range of the hills, driving straight into the sun as it rose, so I had to stop and wait for it to clear the horizon. It was an incredibly uplifting experience. Not at all lonely although I had the hills to myself. The gully between the car park and the hills was busy with chirping birds and the wildflowers, growing around the gully at the car park and the lookout overlooking the hills 15k further on, looked as though they had been raised in a botanic garden ... beautiful!

Apart from the bone chilling cold (if you go, be prepared), the early morning sun striking the incredibly colourful hills is an amazing experience ... well worth the detour! The Arckaringa Hills at and after dawn, an unforgettably magic Outback moment.
Disclosure: Some links on this page are affiliate links. This means when you buy a product or book a service through one of these links, I earn a small commission (there is no extra cost for you). This money helps me to maintain this website and provide the free information. When you are interested in a product or tour, you make the booking/purchase on the provider's website. Be sure to read all details before your purchase. Thank you for supporting this website.
Need a map for your Outback Trip?
Hema offers the most comprehensive range of Australian maps and road atlases.
Capital Cities
Accommodation
Special Interests
Rent A Campervan
Check Road Conditions
For websites and phone numbers to get information about the latest road conditions and weather reports

Click Here
Popular pages on the Outback Guide you might enjoy
Do you like this page? Your friends might enjoy it too. Please share it, thank you.
Copyright © 2007- Rita Amend.
ALL RIGHTS RESERVED