Dawn at the Arckaringa Hills (Painted Desert)
by Jan
(Alice Springs)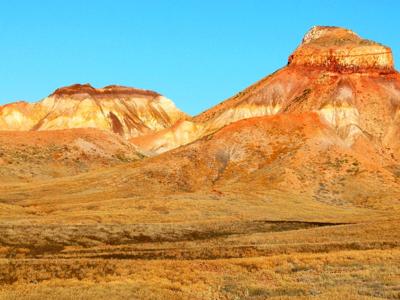 Why it is aka The Painted Desert - beautiful

Early last month I headed off solo on a three week "rellie run" from Alice Springs, first overnight stop, Cadney Park Homestead on the Stuart Highway.

Next morning I woke early and armed with a mud map from a lovely lady at Cadney (and of course my charged up camera and 4-w-d), I took the 250k unsealed roads detour to Coober Pedy in order to see dawn break over the Arckaringa Hills (aka The Painted Desert).

I was within camera range of the hills, driving straight into the sun as it rose, so I had to stop and wait for it to clear the horizon. It was an incredibly uplifting experience. Not at all lonely although I had the hills to myself. The gully between the car park and the hills was busy with chirping birds and the wildflowers, growing around the gully at the car park and the lookout overlooking the hills 15k further on, looked as though they had been raised in a botanic garden ... beautiful!

Apart from the bone chilling cold (if you go, be prepared), the early morning sun striking the incredibly colourful hills is an amazing experience ... well worth the detour! The Arckaringa Hills at and after dawn, an unforgettably magic Outback moment.