Home
> Outback Questions & Stories
Birdsville to Townsville
by Fred Hartwell
(Norwich, England)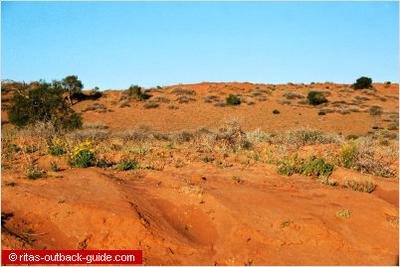 Sand dunes near Bedourie
I am planning a trip along the Birdsville Track through to Townsville April next year.
I can find plenty of information / maps from the south into Birdsville but not going north west across to Townsville.
Do you have any suggestions please, they are not the sort of maps found on the shelves in UK.
Thank you,
Fred Hartwell

<4>Rita's Reply

Hi Frank,

You have several options to go from Birdsville to Townsville depending on how much time you have and what you like to see along the way.

The Outback Queensland section gives you an introduction about the towns and what to explore there.

You can order this Outback Queensland map online. I think postage should not be too expensive for a map.

Don't hesitate to ask more questions, and happy planning.

Rita

More information...


Disclosure: Some links on this page are affiliate links. This means when you buy a product or book a service through one of these links, I earn a small commission (there is no extra cost for you). This money helps me to maintain this website and provide the free information. When you are interested in a product or tour, you make the booking/purchase on the provider's website. Be sure to read all details before your purchase. Thank you for supporting this website.
Need a map for your Outback Trip?
Hema offers the most comprehensive range of Australian maps and road atlases.
Capital Cities
Accommodation
Special Interests
Rent A Campervan
Check Road Conditions
For websites and phone numbers to get information about the latest road conditions and weather reports

Click Here
Popular pages on the Outback Guide you might enjoy
Do you like this page? Your friends might enjoy it too. Please share it, thank you.
Copyright © 2007- Rita Amend.
ALL RIGHTS RESERVED