West MacDonnell Ranges - a Journey in Time
by Angela
(Sydney)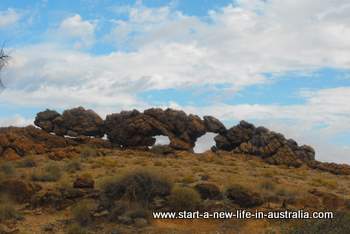 Amazing rock structures
While Uluru is definitely a place to visit for its uniqueness and cultural significance, we found a much more interesting experience going to the West MacDonnell Ranges.

All the valleys, gorges, waterholes, gaps come together to show how amazing mother Earth is and how time helped to create outstanding and unexpected features and structures.

Rocks take various and incredible shapes, some of them appear to be man-made, but they have been there for millions of years. A small stone supports a huge boulder, trees grow sideways and the combination of dark reds, bright oranges, light yellows, striking purples and lots of hues of greens make everything look ethereal.

A visit to these ranges is not a day trip. Spend a couple of days there to discover all the hidden treasures, because there are a lot. And they are a joy for photographers with so many unusual and colourful spots to capture.

Outback is generally associated with heat, flies, dryness. This may be true in summer but if you avoid the hottest months, travelling there is an unforgettable experience and worth every minute of your time.