Pictures of Australia
by Theresa Yeo
(NSW)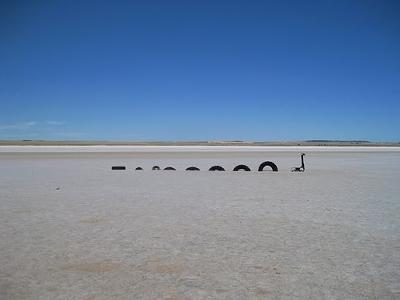 Sculpture, that's what I called.
Creativity Along Port Wakefield Road

While driving away from the Outback towards Crystal Brook, we bypassed Port Germein and witnessed this interesting 'sculpture'. Out of the blue, the dense vegetation to our left transformed into an expansive salt pan that glowed brilliantly under the searing Sun. Albeit traveling at 110km/hour, these dark 'sculptures' punctuated the ghoulish white land captivated our eyes. We killed the car engine and halt about 0.5km away this spot where we took the picture.

To our closer observation, there are 8 used tyres with 7 of them partly submerged into the salt pan at different height gingerly and the first tyre lying flat against the soft and spongy ground. At the other end of this line, an equipment resembled a lawn mower stood out awkwardly, as thought trying to say something to these tyres.

Does anyone know who moved them here and if there were any reasons for doing so?