Home
> Outback Questions & Stories
Huts in the High Country - Wallace Hut
by Col Kirby
(Glen Alpine NSW Australia)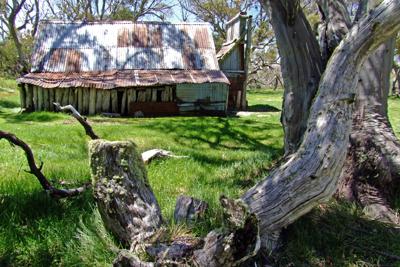 Wallace Hut 1889
Hi I'm Col Kirby. My wife and I love travelling both in Australia and overseas. We have covered much of Australia and never tire of the beauty and stark contrasts. Our early travel days were in a Toyota Hi-ace Campervan with our two daughters, later a 4WD and tent and now as we are "grey nomads" we have a small A-liner caravan.

This photograph is Wallace Hut located about 12 kilometers south east of Falls Creek in the Victorian high country.
It is quite historic having been built by the Wallace brothers in 1889. They were cattlemen in the high country before the declaration of the Alpine National Park. It is constructed from snowgum and woollybutt and originally had a timber shingle roof. This was replaced with corrugated iron in 1946 when used as a workmen's hut by the State Electricity Commission.
This hut has withstood the ravages of fire and time and is the oldest hut in the Alpine National Park.

There are other fine huts including Craig's Hut. This was featured in that great movie "The Man from Snowy River".
Disclosure: Some links on this page are affiliate links. This means when you buy a product or book a service through one of these links, I earn a small commission (there is no extra cost for you). This money helps me to maintain this website and provide the free information. When you are interested in a product or tour, you make the booking/purchase on the provider's website. Be sure to read all details before your purchase. Thank you for supporting this website.
Need a map for your Outback Trip?
Hema offers the most comprehensive range of Australian maps and road atlases.
Capital Cities
Accommodation
Special Interests
Rent A Campervan
Check Road Conditions
For websites and phone numbers to get information about the latest road conditions and weather reports

Click Here
Popular pages on the Outback Guide you might enjoy
Do you like this page? Your friends might enjoy it too. Please share it, thank you.
Copyright © 2007- Rita Amend.
ALL RIGHTS RESERVED