Huts in the High Country - Wallace Hut
by Col Kirby
(Glen Alpine NSW Australia)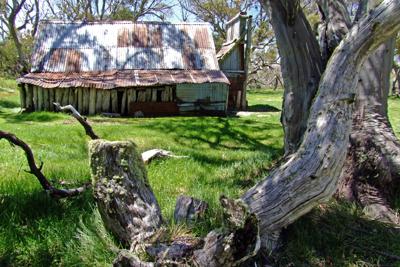 Wallace Hut 1889
Hi I'm Col Kirby. My wife and I love travelling both in Australia and overseas. We have covered much of Australia and never tire of the beauty and stark contrasts. Our early travel days were in a Toyota Hi-ace Campervan with our two daughters, later a 4WD and tent and now as we are "grey nomads" we have a small A-liner caravan.

This photograph is Wallace Hut located about 12 kilometers south east of Falls Creek in the Victorian high country.
It is quite historic having been built by the Wallace brothers in 1889. They were cattlemen in the high country before the declaration of the Alpine National Park. It is constructed from snowgum and woollybutt and originally had a timber shingle roof. This was replaced with corrugated iron in 1946 when used as a workmen's hut by the State Electricity Commission.
This hut has withstood the ravages of fire and time and is the oldest hut in the Alpine National Park.

There are other fine huts including Craig's Hut. This was featured in that great movie "The Man from Snowy River".