Gunbarrel Hwy / Great Central Road - Fuel availability
by Peter - Submitted May 2009
(Lakes Entrance Vic)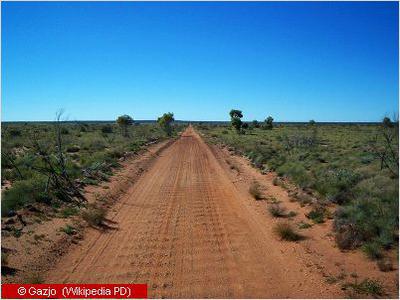 Gunbarrel Highway
I am hoping to travel from the Stuart Highway west to Carnarvon along the Great Western Road.

Where can I find out distances I will have to travel between fuel outlets? I run unleaded petrol and LPG.

Thank you


Reply to Gunbarrel Hwy/Great Central Road fuel supplies
Hi Peter,
Wow, this is a great trip you are planning there.
I am a bit confused about the term "Great Western Road", I have never heard of that one.
From the Stuart Highway you have two choices to go to Carnarvon, the Great Central Road and the Gunbarrel Highway.
The Great Central Road - Yulara to Laverton
This route is part of the Outback Way, the shortcut from Winton, Qld. to Laverton, WA.
The Great Central Road is the easier route, although quite a bit longer to Carnarvon, as it is going slightly to the south. The road can be done with a sturdy conventional car, although a 4 WD is definitely better.
The Great Central Road is well used by travellers and trucks, however, this is very remote desert country, and you should be well prepared.
Fuel supplies are at Yulara, Docker River (Kaltukatjara) Aboriginal Community, Warakurna Roadhouse, Warburton Roadhouse, Tjukayirla Roadhouse and Laverton.
The
total distance
is 1100 km, the longest part between fuel supply is from Tjukayirla Roadhouse to Laverton (303 km).
The Gunbarrel Highway - Yulara to Wiluna
This is the route to take if you really look for a desert adventure. Although called highway, it is a very rough track with washaways and heavy corrugations. The
total distance
is 1400 km.
The first 560 km from Yulara to Warburton are the same as the Great Central Road.
The Gunbarrel Highway leaves the Great Central Road 40 km west of Warburton going north-west to Wiluna. The first section from Warburton to Carnegie (490 km) is the most difficult part, and there is no fuel along the way. Carnegie station has fuel.
It is not recommended to drive the Gunbarrel Highway if this is your first 4WD adventure.
All fuel outlets mentioned have unleaded and diesel, although one map indicates that Warburton roadhouse has only diesel. You'll better check out before you leave.
Both routes cross Aboriginal Lands and
permits are required
from WA Department of Indigenous Affairs and the Central Land Council in the NT.
Sorry, I don't know anything about the route from Wiluna to Carnavon.
Have fun with your trip preparations. Don't forget to check the
Outback safety
and
driving
sections, especially how to
prepare your car
accordingly.
Don't hesitate to ask more questions.
For more info on the Great Central Road check the
Outback Way
website.
See ya, Rita