Flies in Flinders Range during February?
by Theresa Yeo
(NSW)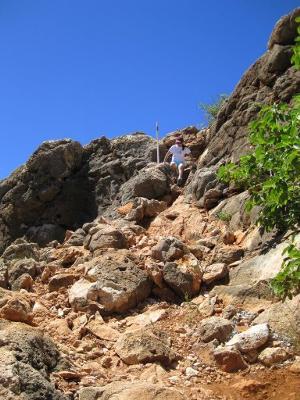 Trekking at Mandu Mandu Gorge when the sun hung mid sky at 40 degree. Memorable!
The greatest fear is not the blistering sun nibbling on your skins but in fact the annoying hordes of flies darting at you in all directions! I remembered vividly how irritating the flies can be when I was trekking at MacDonnell Range in Northern Territory and Stromatolites Pool in Western Australia. I could only convince myself that flies indeed are part of the nature ecosystem, they exist for a reason.

I am glad to stumble over your website by pure chance. Really excited and happy to know there are still some population out there enjoying the Outback life!
It is always my dream to drive a caravan to every inches of Australia, especially Outback and crossing Great Victoria Desert. To me, it is a place of tranquillity, nature almost untouched by civilization and an epiphany I have been searching for.
Whenever I visit Outback, I feel freewheeling and a place where I can find myself and observe the panoramic view spread in front of my eyes. I always have a thought of not coming back to the city to face reality. You know work, which I do not enjoy in any given seconds. I just feel I am wasting my life...as we only die once.