Driving from Brisbane to Lake Eyre
by Anne - Submitted March 2011
(Brisbane)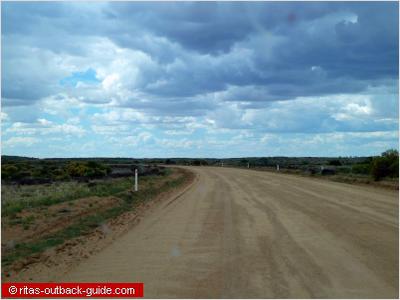 Strzelecki Track
Hello Rita,
My question is similar to Sara from Melbourne. I am trying to find out if it is possible to get to Lake Eyre from Brisbane without a 4 wheel drive.

My son who's 12 has never seen the outback. We have camping equipment and would travel with my brother and his 2 children. I was hoping we could travel via interesting places (maybe of historical or simply touristic significance).

How long do you think we should allow for the trip and what route would you recommend- obviously what you told Sara applies to us once we reach Marree.
Thank you for any advice or information you can give. Anne


Reply by Rita
Hi Anne,
Can you make it without 4 wheel drive? This is not an easy question to answer. It depends on when you want to go, and if someone could answer the question "When does the rain stop?"
Driving from Brisbane to Lake Eyre on the shortest routes involves more driving on unsealed roads.
The shortest routes would be either via Cunnamulla, Thargomindah, Innamincka and the Strzelecki Track to Marree, or via Charleville, Windorah, Birdsville and the Birdsville Track to Marree. Both routes are roughly about 1900km to 2000km. Via Birdsville it would be nearly half the way on unsealed road, via Innamincka a little less.
Avoiding unsealed roads would mean to go via Broken Hill and the Flinders Ranges to Marree.
The two access tracks from the Oodnadatta Track to Lake Eyre North are only recommended for 4 wheel drive vehicles. But you can see Lake Eyre South from the Oodnadatta Track, and it is almost full right now due to the heavy rains they had recently and local creeks feeding the lake.
So the problem is not only rough road conditions, but also the many creek crossings, and many creeks are flowing.
Don't get me wrong, I don't want to discourage you. In dry conditions it would be no problem if you drive slowly and have a car that is robust, has excellent tyres and some ground clearance. I mean a fancy sports car with spoilers and such would be not very suitable.
I took the photos above in October last year. We drove along the Strzelecki Track which was in good condition, but all of a sudden we came to a damp section where we slightly lost control over the car. After switching to 4WD mode and driving much slower we could continue. The third pic shows the Adventure Way between Nappa Merrie and the Jackson Oilfield. It was in a real mess after the rain.
But we also drove on unsealed roads in perfect conditions, although they had also been closed because of rain only a few days before ventured out.
My best advice for you is to check the weather reports and the road conditions before you decide which route you take.
Drive slowly and stay safe.
Rita
More information...