Birdsville Track with a caravan
by Peter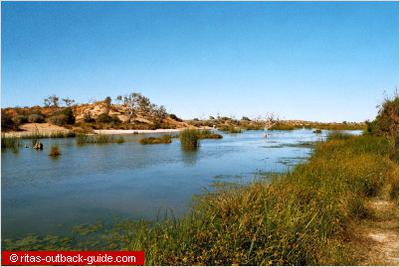 Mungerannie wetlands, Birdsville Track
Hi Rita, Lyn and myself are planning a trip to the Birdsville races travelling up the Birdsville track.
My question is, is it suitable to tow a caravan on the track, we have semi off road caravan.

Regards Peter Davison


Response to Birdsville Track with a caravan
Hi Peter,
wow, a trip to the most famous races in the Australian Outback, that's a bonzer plan!
I admit I don't know what a semi off road caravan looks like, what does the "semi" stand for?
Anyway, if it is an off road caravan, you'll be fine.
The
Birdsville Track
is very stony, rough and dusty, depending on when it was graded the last time. But if you prepare your vehicles accordingly, you shouldn't have any problems.
Here are some tips for a smooth ride.
Fix cupboard doors and all items in the caravan, otherwise you might have a bit of a mess when you arrive in Birdsville.
If possible, carry two spare tyres for the towing vehicle and the caravan. The track is known to be a challenge for tyres.
Lower the tyre pressure to prevent punctures.
Cover the rear windscreen with a cardboard carton and fix it properly. Also protect your water tank if it is fixed underneath the caravan.
Carry some tools to fasten everything that might go loose. Check my
Outback driving
and
safety tips
sections if you need more info.
BTW, the Birdsville caravan park doesn't take bookings during the race week. First in first serve rules at that time.
There are free campsites on the banks of the Diamantina River with a few portable toilets near common campsites.
Take your time, drive slowly, and enjoy your journey, and the races.
Use the comment link for further questions. It would be great if you come back in September and tell us about your experience.
Rita