Home
> Outback Questions & Stories
Birdsville, 1961- 50 years on !
by Robin Reed
(Melbourne, Victoria.)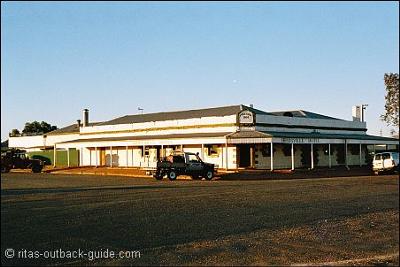 Birdsville Pub 2004
Hi Rita.
In 1961 I was on a Bureau of Meteorology survey which involved the location and checking of various artesian bores in this region.
I was in Birdsville not long after they struck water in the town.
The bore was about 3800 feet deep when they struck water and it reached the surface at about 209 degrees Fahrenheit.
It was so hot that it was impossible to have a shower as the water was just too hot.
Prior to this, water was pumped some 40 miles, and from memory, the pump broke down just before they struck water.

During my visit, I stayed at the Birdsville hotel which I loved and am planning to re visit later this year which will be 50 years later.
It will be interesting to see what, if any changes have taken place in that time.

Unfortunately, I don't have any pictures from that trip except one very small photo of the pub, which I don't have with me to upload.
This time, I will be taking lots of photos and if I can, I will get them on here. Cheers .
Robin Reed.

Disclosure: Some links on this page are affiliate links. This means when you buy a product or book a service through one of these links, I earn a small commission (there is no extra cost for you). This money helps me to maintain this website and provide the free information. When you are interested in a product or tour, you make the booking/purchase on the provider's website. Be sure to read all details before your purchase. Thank you for supporting this website.
Need a map for your Outback Trip?
Hema offers the most comprehensive range of Australian maps and road atlases.
Capital Cities
Accommodation
Special Interests
Rent A Campervan
Check Road Conditions
For websites and phone numbers to get information about the latest road conditions and weather reports

Click Here
Popular pages on the Outback Guide you might enjoy
Do you like this page? Your friends might enjoy it too. Please share it, thank you.
Copyright © 2007- Rita Amend.
ALL RIGHTS RESERVED