Balloon trip Ayers Rock
by Jackie - Submitted Feb 2010
(UK)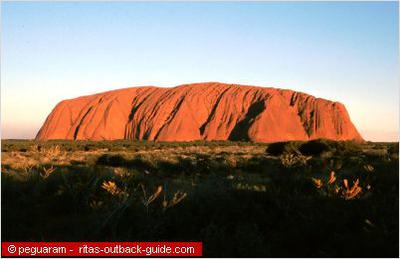 Uluru at sunset
Could you tell me if I could get a balloon trip around Ayers Rock? Could you give me an idea of cost and how long the trip would take?

I plan to travel to Alice Springs by train and visit Ayers Rock from there. I will be travelling from the UK and travelling around the country (train?).

Could you tell how long it would take to get from Alice Springs to Ayers Rock by road and how I could get there? Bus or hotel transport?


Rita's Reply
Hi Jackie,
I don't think there are balloon flights available around Ayers Rock / Uluru. As far as I know there are only helicopter flights. However, balloon flights are available in
Alice Springs
.
There are also
tours from Alice Springs to Uluru
, one-way and returning tours, and a shuttle bus service (takes 5 1/2 hours).
Here is an overview about
tours at Uluru
. You can also take a tour back to Alice Springs, or the shuttle bus.
The Ayers Rock resort is about 18 kms from Uluru. If you don't have your own car, you'll need to join a tour, or rent a car at the resort.
The best way to travel around the country depends on where you want to go, and how much time you have. I am not very familiar with the train system in Australia. As I am a keen photographer, I want to stop wherever I want, so a train is no option for me.
You could fly to the East cost from Alice Springs or Ayers Rock. It is hard to make suggestions if I don't know where else you want to go.
I hope this helped you for your planning.
Rita