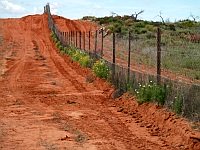 Hunting pigs and goats in Outback Queensland
FAQ about hunting in QLD
---
Hello Rita, my name is Adrian Perre. I am after properties to hunt in south west Queensland. Don't know if you can help me. Thank you.
This single question submitted in the forum section of the Outback Guide many years ago caused a flood of comments by other people interested in going to hunt.
At first, this thread didn't offer much help for those who searched for a place to hunt. But finally, station owners submitted their contact details.

I couldn't help Adrian immediately. My initial reply to him was more than embarrassing as hunting is not my business and my knowledge is next to nothing about the subject.
I know that feral pigs and goats are a pest, and a threat for native animals, though!

Doing some research I learned that hunting is regulated by each state and territory in Australia, and the rules vary. In Queensland it is only allowed to hunt feral animals like European rabbits & foxes, feral goats & pigs etc. Hunting is possible on private property provided the landowner grants permission. A current firearm licence is needed and some stations only allow bow-hunting.

Now I have accumulated the collective wisdom on this page. Hopefully, everyone finds an answer to their questions and a suitable place to go hunting.
Please Read:
I invite station owner who offer hunting on their property to email me so I can add your details here. Please provide the name of the station, locality, and how interested people can contact you.

People who are searching for places to hunt: Please do NOT contact Ritas Outback Guide. I offer the information on this page only as a service for you, I do not act as an agent.
You need to contact station owners yourself. Thank you.
---
Advertisement

More feedback about Morrie Station
by Ruth
(Brisbane, Qld, Australia)
My husband and I recently spent the weekend at a big station, and we loved it. The wildlife started appearing about an hour outside our destination: emus, kangaroos, brolgas, wedge tailed eagles, lizards, and much, much more.
The trip involved the shooting of a wild pig, and now the pig stays in the city! We will be ba-a-a-ck!
Ruth
Reply by Mark from Morrie
G'Day Rita and Ruth!
I am pretty blown away to see this blog here with "pig in the city" photo from Ruth! One pig with a view of the Brisbane River - lots would be jealous.
We here at Morrie are pretty humbled by our guests, both Ruth and many, many others. An absolute pleasure to have on the station, and visit our home!
We have been pretty busy here at the moment, many visitors, hunting and non hunting. The school holidays have been flat out - with a group of 18 arriving (non hunters)! (One of 5 groups over the past few weeks!) This group comprised of adults and children here to give a much needed hand on the station - and our family in return shared the history, station life and some pretty unique stories with them.
One thing that has struck us opening the station up to the public, is the thirst for knowledge of station life, and what is it really like to "live where you live"? Also, lots of questions from kids especially about the bio diversity, the culling of feral animals, and managing of native, and non native animals - Cattle/ Kangaroos.
We have found that adults and children alike, have stated on numerous occasions that this is not what they have been led to believe through main stream media - fact verses fiction, and that people, like ourselves, with the 8th generation on the land, do care, do manage and do love our land, our home our environment.
Our guests genuinely are surprised at what the realities of living on a Station, on the land is like. We are in the process of now doing up managers quarters, so we can cater for those who are not self reliant - hopefully in the not too distant future we can cater and help educate others about life on the land - the real version! :)
Our last caravanners left in Convoy this morning, from Victoria, 2 vehicles slushing through the mud, had a ball, as did their children. Amazing people, all of them. I would love to be able to show photo's too you, however not sure how to upload them here for others to see.
Till next time, keep safe all, hunt safely, and travel safely - there is no place like Australia, or "Morrie" :)
Advertisement


Oct 02, 2012 - Morrie update by: Mark
G'Day, just a quick note to say thank you to all the enquires and recent visitors to the station. Season is a "cracker" heaps of cover for all the vermin! Water is good, with lots of pig activites over the entire property.

Some pretty solid boars have been taken, with some deadly ivory on them - pleased to see that as the boars are getting into the claves and heifers. A few neighbours are burning off at this time of the year, so the ferals are heading to Morrie as refuge.
We have noticed an increase in the rabbit numbers as well in the spotlight - and a decrease of wild dogs (thanks to the bow hunters and shooters).

Would like to thank all of those who have been here for their responsible and respectful actions. As always safety is important to you having a great trip, and for our family business - livestock.
It is great to see that 98% of hunters are fair dinkum and good people which far outweigh the 2% of idots out there - who wont be welcomed back.